Students lash out at BMTC for delay in issuing student bus passes
Several students and members of the All Indian Democratic Students Association held a protest in Mysuru Bank Circle demanding issuance of the student bus passes. The agitators blamed Bengaluru Metropolitan Transport Corporation for the delay and warned of intensifying their protest if the BMTC fails to offer a timebound solution.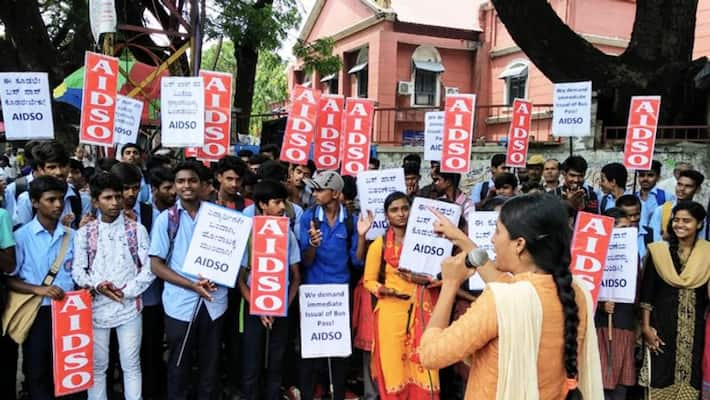 Bengaluru: Demanding an immediate solution to delay in the issuance of student bus passes, students and members attached to All Indian Democratic Students Association (AIDSO) held a protest in Mysuru Bank Circle in the city. According to AIDSO, the delay by the BMTC in issuing students bus passes as led to many colleges seeing a reduced strength in the number of students as many cannot afford to pay Rs 70 for the daily bus pass.
There are over 2,500 colleges in the city and over 70% of students, studying in government colleges and government-aided institutions are dependent on BMTC buses for their daily commute.
"In Fort College at City Market, only 30 students have been attending classes from May 20.  The BMTC should have ensured that bus passes were available from June 1. As they have failed in their duty, the student community has been left to suffer. To ensure the BMTC hastens its process now, we held a protest today." said Aproova CM, secretariat member, AIDSO.
Echoing similar sentiments, Roshan L, district secretary of AIDSO said that although there is a circular by the BMTC that the students should be allowed to travel free of cost until June 20 by furnishing their old bus pass,  "few students have complained that bus conductors in Anjanapura route, Malleshwaram 18th cross and other places force students to buy daily bus passes."
The BMTC has officially made it clear that since the BMTC took the decision to issue smart card bus passes, it will take time for it to be arranged and has instructed all depot managers to allow students travelling in BMTC to travel free of cost in case they furnish their old bus pass. "In case if there are any complaints, students and colleges can approach the depot manager and submit a written complaint." said a senior official.
Last Updated Jun 7, 2019, 7:10 PM IST