Smugglers from Andhra Pradesh disguise as forest guards, steal red sanders
Andhra Pradesh smugglers steal red sanders from Tamil Nadu gangsters in the guise of forest guards. This, in the hope of selling them in Bengaluru.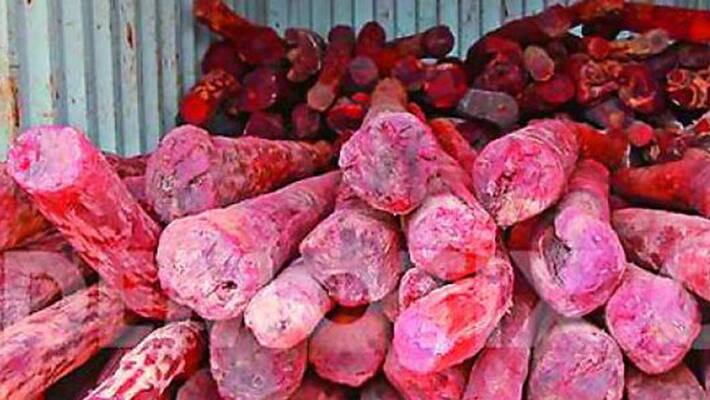 Bengaluru: Disguised as forest guards, smugglers from Andhra Pradesh stole red sanders from  Tamil Nadu smugglers, who had also stolen the goods from a forest. 
The Tamil Nadu gang had reportedly stolen the red sanders weighing 135kg from Sheshachalam forests. They had intended to sell the sanders in Bengaluru. 
However, a member from the same gang, who was disgruntled about how the money would be divided, tipped off the Andhra Pradesh gang.
Andhra Pradesh smugglers posed as forest guards and stole the sandalwood from the Tamil Nadu gang. The Tamil Nadu gang thought they were forest guards and fled from the scene fearing arrest, leaving their truck and the red sanders behind.
The Andhra Pradesh smugglers then decided to sell the red sanders in Bengaluru, but the gang's member C Reddy Shekar who arrived in Bengaluru to sell the sanders was arrested.
Shekar was arrested after a policeman posed as a potential buyer met him with regards to buy the red sanders. Once they had verified their information, they arrested him.
Shekar from Chittoor in Andhra Pradesh told the police that they had looted the truck at the Pileru junction near Chittoor.
The Bengaluru police travelled to Pileru Town and seized the truck abandoned by the Tamil Nadu smugglers. 
They recovered three logs of red sanders worth Rs 2 lakh from Reddy Shekar.
According to the police, Reddy Shekar's associates fled with the remaining sanders and had switched off their mobile phones.
In another similar incident on May 17, a 13 member gang of red sander smugglers were caught trying to transport red sanders to various states following which it would have been smuggled abroad. Logs weighing 4000kg were recovered by the police.
Last Updated May 24, 2019, 5:39 PM IST