Shivakumara Swamiji's funeral: Here is why PM Modi won't be in Tumakuru
PM Narendra Modi expressed his heartfelt condolences through a series of tweets and remembered the time he got blessings from the seer Shivakumara Swamiji in Tumakuru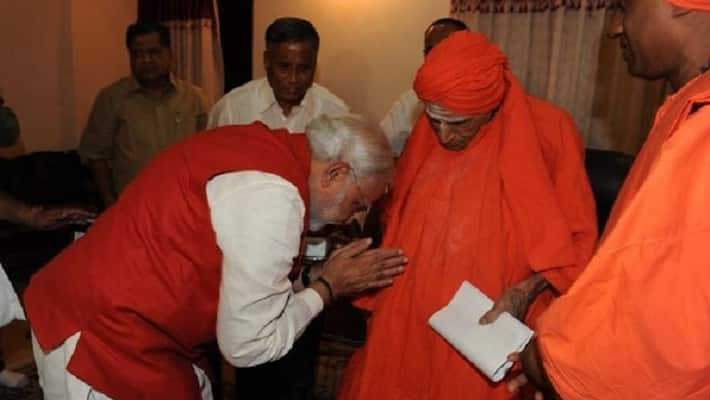 Tumakuru: Shivakumara Swamiji also known as the 'Walking God' of Siddaganga Mutt breathed his last at 11.44 AM, on Monday (January 21) at the mutt hospital in Tumakuru, Karnataka.
It was earlier reported that Prime Minister Narendra Modi will travel to Tumakuru on Tuesday to pay his last respects to the 111-year-old seer. But the latest reports claim that lakhs of devotees will arrive to pay their last respects and it is very difficult to make special security arrangements.
ALSO READ: Shivakumara Swamiji no more: Special trains, buses to Tumakuru for devotees to pay last respects
Due to security reasons, PM Modi will not come to Tumakuru. But he has expressed his condolences and hailed the contributions of the seer.
He expresses his condolences through a series of tweets.
His Holiness Dr. Sree Sree Sree Sivakumara Swamigalu lived for the people, especially the poor and vulnerable. He devoted himself towards alleviating ills like poverty, hunger and social injustice.

Prayers and solidarity with his countless devotees spread all across the world. pic.twitter.com/AqgOLgqTrn

— Narendra Modi (@narendramodi) January 21, 2019
HH Dr. Sree Sree Sree Sivakumara Swamigalu remained at the forefront of ensuring better healthcare and education facilities for the marginalised.

He represents the best of our traditions of compassionate service, spirituality and protecting the rights of the underprivileged. pic.twitter.com/Tp6o5ULU2d

— Narendra Modi (@narendramodi) January 21, 2019
I have had the privilege to visit the Sree Siddaganga Mutt and receive the blessings of His Holiness Dr. Sree Sree Sree Sivakumara Swamigalu.

The wide range of community service initiatives being done there are outstanding and are at an unimaginably large scale. pic.twitter.com/wsmRp2cERd

— Narendra Modi (@narendramodi) January 21, 2019
Last Updated Jan 22, 2019, 10:39 AM IST