Republic Day Special: Tricolour food in Bengaluru
Bengaluru hotels add tricolour flavour to their dishes. Idlis and dosas in colours of saffron, white and green colour are served to customers to mark 70th Republic Day.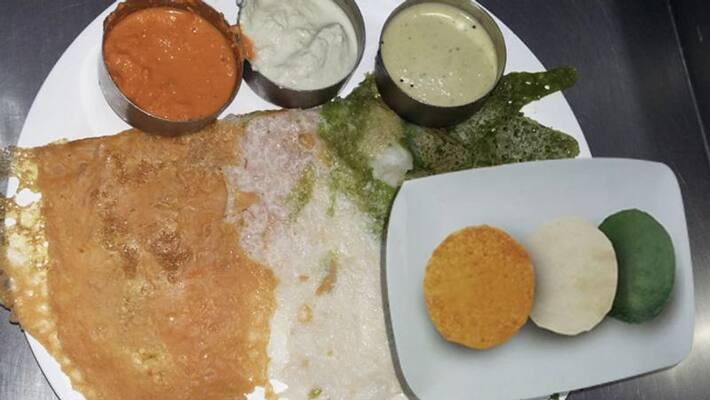 Bengaluru: To mark the 70th Republic Day, few hotels in an around Bengaluru city adds a touch of patriotism in its food. Food in themes of saffron, white and green will touch the palates of the hungry today in celebration.
Biju Thomas, CEO of Vasudev Adiga's Fast Food Pvt Ltd spoke to Newsable and said that, not only in Bengaluru Hotels of Adiga's, but restaurants in Delhi, Gangavati, Maddur and Kolar also will serve saffron, white and green idlis and dosas to customers in respect of the 70th Republic Day. 
"The 27 Hotels under Vasudev Adiga's banner have been serving tri-colour idlis and dosas for the last four years during Independence Day and Republic Day. The idea is to promote national integration through food as well. The response has been overwhelming," said Biju Thomas.
Rasovara – The Royal Kitchen also serve tri-colour themed preparations on January 26. The restaurant in UB city will serve classic dishes such as Tiranga Pattice, Tiranga wati Dhokla and Tiranga halwa.
The Sheraton Grand Hotel in Whitefield has arranged for lunch with a patriotic spin on this great occasion.
According to chefs at Adiga's, in order to get the colour of saffron carrot paste and turmeric powder is mixed with batter and palak (spinach) paste is mixed with ingredients to make green colour. In order to make idlis and dosas, the three batters (including the traditional white) are line up together and steamed or cooked accordingly.
Sparing no opportunity, even chutneys are tricolour-themed
A combination of turmeric with coconut (saffron), curry bean leaves with coconut(white) and green chillies, mint and coriander with coconut (green) are generally used to make the Republic Day special chutneys. 
If your passing through a street and spot a food joint serving tricolour-themed food, it's all well within your right to favour your palate with the special flavours that go straight to your heart.
Last Updated Jan 26, 2019, 2:37 PM IST