KC Reddy's 117th birth anniversary: Karnataka celebrates first chief minister
May 5 marks the first birth anniversary of Kyasamballi Chengalaraya Reddy, who served as the first chief minister of Karnataka.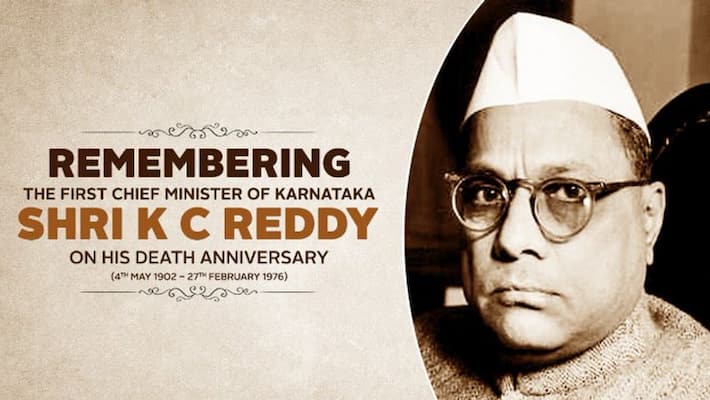 Bengaluru: Karnataka celebrates the 117th birth anniversary of its first chief minister, Kyasamballi Chengalaraya Reddy, popularly known as KC Reddy.
KC Reddy served as the chief minister between October 25, 1947 and March 30, 1952. He was succeeded by Kengal Hanumanthaiah.
Reddy was a revolutionary right from a very young age. Born into a Vokkaliga family, Reddy had his humble beginnings in Kyasamballi Village in Kolar district.
He founded the "Praja Paksha" or people's party right after graduating from law school in the year 1930. The party's main aim was to install a stable government in the princely state of Mysore.
In time, Praja Paksha gathered the support of locals as their manifesto supported the cause of the local farmers. It soon joined forces with Praja Mitra Mandali and united as the Praja Samyukta Paksha or Mysore People's Federation in 1934.
KC Reddy served as the president of Mysore People's Federation from 1935 to 1937. After 1937, the federation joined forces with the Indian National Congress in the fight for freedom.
Reddy led the Mysore Congress as president twice between 1937-38 and 1946-47. Being a member of the Constituent Assembly of India was yet another feather in his cap of political achievements. Once India got her independence in 1947, he spearheaded the movement to establish a stable government in Mysore.
KC Reddy was the first chief minister of Mysore state. His contribution to the democratic form of government in the current day and age is indispensable. After his term as chief minister, he was elected to be a member of the Mysore Legislative Assembly in the year 1952.
Reddy was recognized for his role in replacing the Maharaja's rule with a stable government at his birth centenary.
Despite opposition, Bengaluru was made the capital city by KC Reddy. He also laid the foundation stone of Vidhana Soudha.
Last Updated May 5, 2019, 12:13 PM IST