Karnataka political crisis continues; all three parties try to avoid counter poaching
Though all the three parties - Congress, JD(S) and the BJP - were trying to maintain distance from each other to avoid counter poaching of MLAs, they are now housed just 25 km from each other on the outskirts of Bengaluru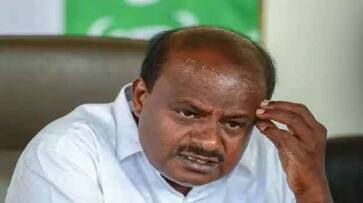 Bengaluru: With continuing political crisis in Karnataka, the three parties decided to pack their MLAs off to resorts on Friday and bring them to Vidhana Soudha on Monday.
The JD(S) legislators have already been staying in a resort for the past two days.
But chief minister HD Kumaraswamy's decision to seek a floor test alerted the BJP and the party decided to keep their members together.
Though all the three parties were trying to maintain distance from each other to avoid poaching of MLAs, they are now housed just 25 km from each other on the outskirts of Bengaluru.
Soon after the trust vote was proposed on Friday, the BJP went on an overdrive. Leaders decided to house all their first-time MLAs and "doubtful" legislators in two star hotels -- Sai Leela and Ramada -- on Dodballapura, near Yelahanka. According to reports, 80 out of the 105 BJP legislators have been shifted to hotels to prevent counter poaching operations by Congress or JD(S).
A BJP functionary reportedly said that the senior leaders will stay in their own homes or in the Legislator Home in Bengaluru.
The JD(S) MLAs will return to the resort at the foothills of Nandi Hills where they had been staying. They are close to 30 in number. Kumaraswamy, his wife Anitha and his brother HD Revanna will remain in their homes. Whereas all the other MLAs will stay at the resort.
Being the most vulnerable to poaching operations, the Congress has decided to house their MLAs within close proximity to the city. They will temporarily stay at Taj Vivanta, Yeshwantpur, and will be moved to an undisclosed location later. The party is likely to take its 50-odd MLAs to a resort close to Devanahalli, reports said.
Last Updated Jul 13, 2019, 12:41 PM IST