Karnataka political crisis: Coalition succeeds in buying more time as House adjourned
Consistent efforts by coalition leaders paid off as the house witnessed chaos and unruly behaviour, forcing it to be adjourned to Friday (July 19)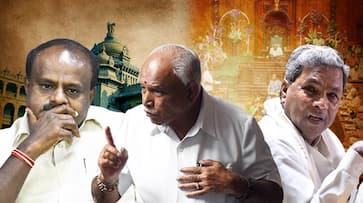 Bengaluru: When chief minister HD Kumaraswamy moved the motion of confidence earlier today, he deliberately asked the Speaker Ramesh Kumar not to tie him up with the rope of time. That should have given enough hints to the opposition ranks. And as the day progressed, coalition leaders – from former chief minister Siddaramaiah to KPCC president Dinesh Gundu Rao – openly declared that the motion should not be put to vote, keeping in the mind the ambiguity in relation to the issue of whips, as elucidated in the Supreme Court order on Tuesday.
In fact, it was Siddaramaiah who hijacked the morning as he wantonly dragged his speech in the garb of point of order, making reference to things which "did not have a direct bearing on the agenda of the vote of confidence motion". 
By the afternoon, the Congress leaders masterfully dealt with the issue, with Congress leaders RV Deshpande and Krishna Byre Gowda expressing their dissatisfaction over the Governor's message to the Speaker, asking him to "consider the proceedings" by end of day.
Meanwhile, a supposedly neutral Speaker was at the receiving end with the BJP members, Madhuswamy, the BJP MLA from Chikkanayakanahalli, accusing him of playing partisan. Fuming at this allegation, the Speaker adjourned the house for some time.
Later, he met advocate general Uday Holla for some legal advice on the issue.
Meanwhile, Congress members had deftly handled the issue of Shrimant Patil, the Congress MLA from Kagwad who was found admitted to hospital and alleged that he was kidnapped by the BJP.
While the house has been adjourned, the BJP will stay at the house overnight as a mark of protest, while all the three parties in question (Congress, BJP and Speaker Ramesh Kumar) are mulling approaching the Supreme Court to get clarity over parties issuing a whip.
Last Updated Jul 18, 2019, 7:33 PM IST