Karnataka chief minister promises activists opposing elevated corridor to hold public consultations
After several citizens of Bengaluru raised their voices against the elevated corridor, the chief minister of Karnataka, HD Kumaraswamy held a meeting with opposing activists. Kumaraswamy has assured detailed discussions on the matter.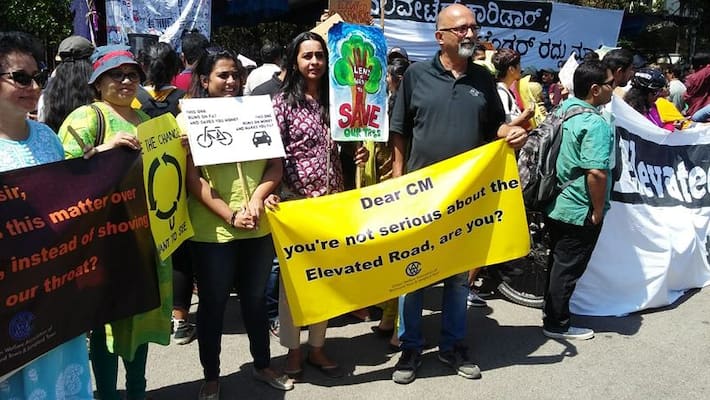 Bengaluru: Karnataka chief minister Kumaraswamy met activists opposing the elevated corridor project on Tuesday. This after activists and citizens of Bengaluru vehemently opposed the tender for the project.
Saturday saw several Bengalureans protest in the city demanding the cancellation of the tender for the first phase of the controversial elevated corridor project.
Kumaraswamy has assured them that a detailed discussion on the subject would be held soon after the general elections were over.
Kumaraswamy has even promised to hold wide-ranging public consultations on the issue of mobility before proceeding with the project.
Leo Saldanha of the Environment Support Group, Prof Ashish Verma of IISc, renowned theatre personality Prakash Belawadi, Naresh Narasimhan, Vinay Sreenivasa of Bengaluru Bus Prayaneekara Vedike (BBPV), Zibi Jamal of Whitefield Rising, and Isaac Amritraj of Slum Janaandolana Sanghatane, and Srinivas Alavilli and Tara Krishnaswamy of Citizens for Bengaluru (CfB) were among many who were present for the meeting with the chief minister.
The activists said that the chief minister mentioned that he is not committed to any one project or the other but that he is clear that this crisis is an opportunity for him to leave a legacy for a sustainable Bengaluru for many decades to come.
"The citizens' representatives would like to thank CM HD Kumaraswamy for noticing public emotion and his genuine outreach," a joint statement from the activists said.
The statement also read that Kumaraswamy also received Prof Verma's mobility report and promised to personally review the document and the alternative proposals."
The opposition to the elevated corridor project has been gathering momentum since it was announced by the chief minister in his first budget in 2018 itself.
Saturday's protests were carried out after the government called for tenders for the project without any public consultation as was promised by both the CM and the deputy CM.
Protesters, including students, residents and experts from more than 50 organisations, convened at the Gandhi Statue in Maurya Circle demanding that the government cancel the tender for the Rs 27,000 crore project.
Last Updated Mar 20, 2019, 12:15 PM IST