JD(S) leaders at Hariprasad's dinner party: 'Soul still in Congress', says Ramesh
Gala dinner hosted by Congress leader BK Hariprasad witnessed top Karnataka leaders queuing up to wish him luck. Interestingly, the JD(S) leaders who switched over from the Congress ahead of the Karnataka Assembly in 2018 were also present. A leader was vocal about his love for the Congress although he defected from the party earlier.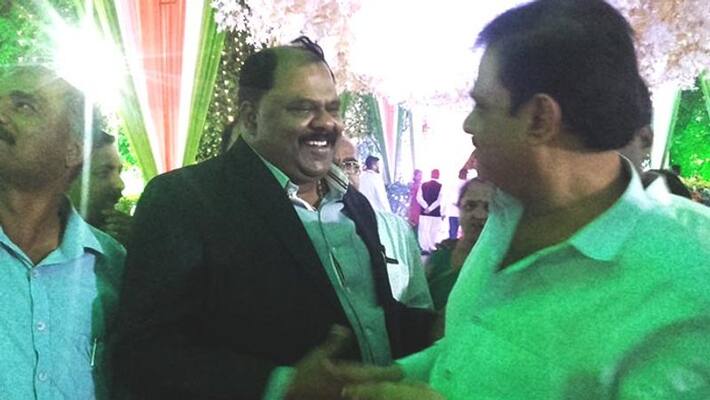 Bengaluru: Congress leader BK Hariprasad's recent gala dinner in Bengaluru not only witnessed his partymen attending, but also former Congress politicians who had last year switched over to the JD(S).
Ministers DK Shivakumar, KJ George, MLAs Roshan Baig, Munirathna Naidu, Byrathi Basavaraj and others from Bengaluru wished Hariprasad, who aspires to contest as from the Bengaluru Central Lok Sabha seat. However, the interesting thing to note was the presence of the JD(S) leaders.
A leader also expressed that "his soul is still in the Congress" although they switched sides.
P Ramesh, a close confidante of former chief minister Siddaramaiah, had defected from the Congress as he did not get the party ticket to contest from CV Raman Nagar Assembly, was seen at the event, which was termed by many as "Dinner Politics".
When asked about his presence, Ramesh was vocal about his situation and said, "I am now in the JD(S) but my soul is in the Congress. I left the party due to some leaders. I have great regards to Hariprasad ji and hence I came here. Since the CV Raman Nagar also falls under the Bengaluru Central Lok Sabha constituency limits, leaders were invited and I am one among them."
Not only Ramesh, former Bruhat Bengaluru Mahanagara Palike (BBMP) corporator and JD(S) leader T Mallesh was also present and wished Hariprasad.
Apart from Ramesh and Mallesh, minority leader and JD(S) party's defeated candidate from Chamrajpet Altaf Khan also visited and was seen conversing with Congress leaders.
Altaf had left the Congress and joined the JD(S) before the Assembly elections in April 2018 following the Congress sidelining him to accommodate BZ Zameer Ahmed Khan.
The BJP was happy with the developments at Hariprasad's dinner party.
The Congress's "dinner politics" and conventions have new given hope to the BJP as it feels that these efforts by the Congress leaders like Baig holding conventions to prove a point and Hariprasad's dinner to gain upper hand among other aspirants and the JD(S) leaders meeting Congressmen and expressing their love towards their former party will be an advantage for the BJP as there will be split in votes due to dissidence, the saffron party felt.
"The Congress migrants in the JD(S) are facing discontent and hence may be feeling that their soul elsewhere. This is an indication that they are not loyal to the JD(S) and can switch back anytime. After the fall of the coalition after the Lok Sabha elections, such leaders will return to their old party," said S Prakash, Karnataka BJP spokesperson.
Last Updated Feb 21, 2019, 9:20 AM IST