Hoax call at Bengaluru Airport: Surat-based techie tries to delay flight; arrested
A techie who was in Bengaluru for a wedding made a hoax call claiming there was a bomb in the plane that is bound for Surat. The techie who had been late, tried to delay the flight but landed in jail.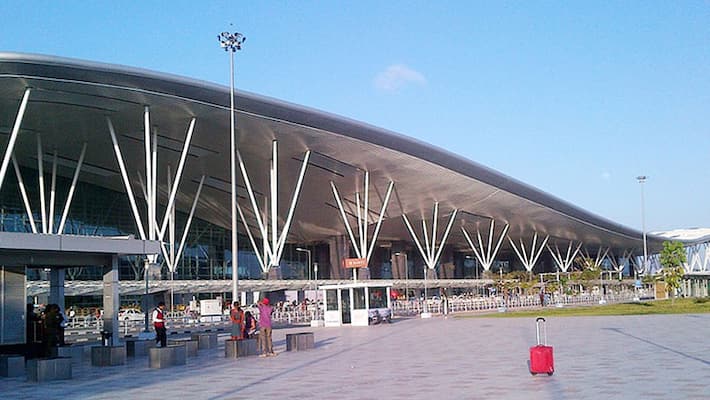 Bengaluru: A techie went to the extent of making a hoax call claiming there was a bomb in the Surat-bound aircraft he was to board at Kempegowda International Airport, just because he was about to miss it.
49-year-old Prateek Rathore Mahesh Bhai landed himself in police custody after he tried to stall a Bengaluru-Surat aircraft on the pretext that there was a bomb in it.
According to reports, Prateek Rathore had come to Bengaluru for a wedding with his wife and child. The trio was to board a 7pm plane but was late. At about 6:57pm, the airport authorities received a threat call. When airport authorities checked CCTV footage, they noticed that Prateek had stepped out of the terminal building. Reports also said that evidence from CCTV footage confirmed their suspicion
The police were informed and Prateek was later arrested. He reportedly admitted that he had made the hoax call in a bid to board the plane despite being late.
The airline staff and the CISF maintaining security at the airport declared the plane safe after sanitising the flight.
This is not the first time that such a report has surfaced.  In August 2018, a man was arrested for allegedly making three hoax calls to the airport in the same week. The accused was identified as 35-year-old Aditya Rao, who is an MBA graduate.
The series of phone calls began on August 20, 2018 when a call was received by the nodal manager at KIA about a bomb that had allegedly been placed in the airport lobby.
Two days later, the same officer received another call claiming a bomb had been placed in the luggage of Air Asia India flights heading to either Kolkata or Thiruvananthapuram.
The third call was made on August 27 when he claimed that the security of Air Asia flights i5 1426 from Bengaluru to Pune and i5 1516 from Bengaluru to Hyderabad were compromised.
The same man had also made a bomb hoax call to the Krantiveera Sangolli Rayanna (KSR) City Railway Station on the same lines.
According to police, Rao used two SIM cards to make hoax calls and would switch off his phone as soon as he hung up. He was tracked and caught after police narrowed down on the location of the two SIM cards.
Last Updated Feb 26, 2019, 12:37 PM IST