High court reserves verdict on bribery charges against Yeddyurappa
Karnataka High court reserved its verdict on the case against BJP state president BS Yeddyurappa in the audio clip case; While JD(S) claimed that BJP was trying to poach ruling alliance's MLAs, BS Yeddyurappa said the voice in the audio clip was his, but the words were manipulated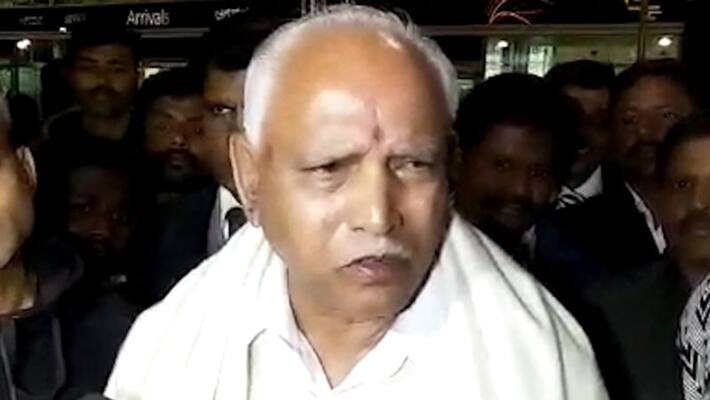 Kalaburagi: On Thursday, the Karnataka high court reserved its verdict on the petition filed by state BJP president BS Yeddyurappa and three others seeking the quashing of the FIR filed against them on charges of bribery.
Justice PGM Patil reserved the verdict after hearing both sides of the arguments. 
Senior counsel CV Nagesh argued on behalf of Yeddyurappa (BSY) claiming that the case did not qualify under the Pevention of Corruption Act. The counsel argued that Yeddyurappa didn't say anything about offering a bribe and said that he would bear the election expenses for which Rs 10 crore advance will be paid. 
The counsel also argued that money given for election expenses in advance would not be considered as bribe. Hence the case could not come under Prevention of Corruption Act and should be quashed.
The counsel for Shivanagouda, Preetham Gowda and MB Maramkal said that there was no truth in the allegations made against them. 
However, advocate general Sandesh Chouta arguing for Sharanagouda said that even luring a people's representative with money and requesting him to resign is a crime. Chouta requested further police investigation.
Yeddyurappa, Shivanagouda, Hassan MLA Preetham Gowda and a notable journalist Maramkal were booked under the Prevention of Corruption Act over the complaint filed by Gurmitkal MLA Naganagouda's son Sharanagouda.
In the FIR, Sharanagouda alleged that the BJP state president and the other three tried to lure his father through him with crores of rupees and a ministerial post to switch over to the BJP.
In connection with this, Sharanagouda had submitted an audio clip that was 80 minutes long to the police. The clip was an alleged recording of the conversation between him and Yeddyurappa. The FIR was filed on the basis of this clip.
The audio clip was released by Karnataka chief minister HD Kumaraswamy just before the presentation of the state Budget. Yeddyurappa maintained that the audio clip had been doctored to favour the chief minister.
Kumaraswamy had constituted an SIT probe into the audio clip but the BJP demanded the speaker to either order a judicial inquiry or a House committee probe into the bribery charges.
 
Last Updated Feb 21, 2019, 7:43 PM IST