Executive committee meeting of state BJP Mahila Morcha inaugurated
National president of the BJP Mahila Morcha, Vijaya Rahatkar, state president Bharati Shetty and minister for women and child welfare Shashikala Jolle jointly inaugurated the executive committee meeting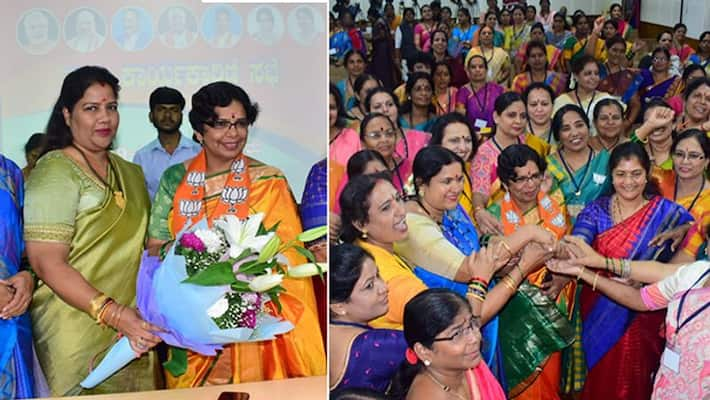 Bengaluru: The executive committee meeting of the Mahila Morcha of the state BJP was inaugurated at the BJP office in Malleshwaram, Bengaluru.
National president of the Mahila Morcha, Vijaya Rahatkar, state president Bharati Shetty and minister for women and child welfare Shashikala Jolle jointly inaugurated the event.
Speaking on the occasion, the national president urged the members to work in a way so as to bring more stability to the state BJP government. She also praised the Prime Minister Narendra Modi for his courageous decision to abrogate Articles 370 and 35A which had granted special status to the state of Jammu and Kashmir. She also lauded the PM for his move to ban single-use plastic.
Shashikala Jolle, in her speech, stressed on the point that the women who had assembled in the hall were an integral part of the BJP and urged them to continue with the good work they had done all these days. She also touched upon the issue of anganawadi workers and promised to conduct workshops for them, as also digitise their records. Furthermore, she urged everyone to give her more suggestions to run her department and also promised to render whatever help she could in order to make the lives of the specially-abled better.
The state president, in her speech, detailed how the women members of the BJP had toiled hard to help the victims of the devastating floods that rocked North Karnataka. She also informed the gathering that these women-volunteers were successful in raising a truckload of useful items to be distributed among the victims of the floods.
Lastly, on the issue of by-poll to be held in the state on October 21, she exhorted everyone to work towards ensuring that BJP candidates would win. The by-poll will be held in fifteen constituencies.
Chief minister BS Yediyurappa was slated to inaugurate the event, but did not turn up owing to other responsibilities.
 
 
Last Updated Sep 26, 2019, 5:18 PM IST