Election results 2019: BJP wins three seats in Bengaluru, DK Suresh saves face of Congress
BJP secured victory in Bengaluru South, North and Central; Congress retained its hold in Bengaluru Rural constituency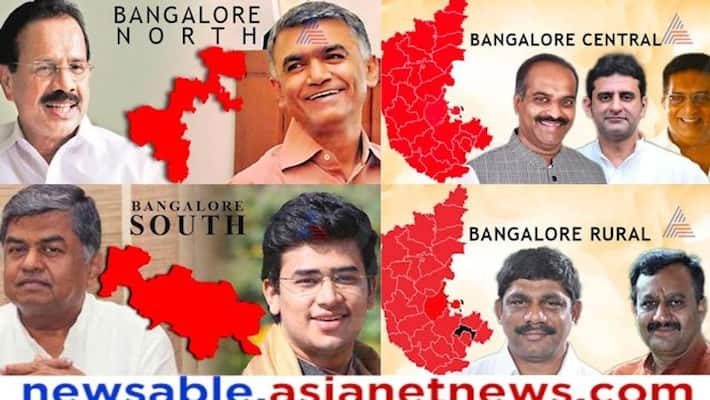 Bengaluru: The BJP has retained three seats in Bengaluru, this Lok Sabha election. The results of four constituencies in Bengaluru including Bengaluru Rural are out and the efforts of the Congress-JD(S) alliance has failed to make too much of an impact in the city.
BJP has won Bengaluru Central, Bengaluru North and Bengaluru South, whereas Congress has retained the Bengaluru Rural seat.
Bengaluru Central
BJP candidate PC Mohan has yet again trounced his arch-rival Rizwan Arshad of Congress in Bengaluru Central. In a surprising development, Rizwan Arshad was leading with 40,000 votes initially when Mohan gained ground and won.
PC Mohan secured 5,33,231 votes whereas Arshad got 4,91,646 votes.
Bengaluru South
This constituency just proved its loyalty to the BJP, regardless of the candidate. Tejasvi Surya a newcomer, routed Congress veteran leader BK Hariprasad with a margin of over 3 lakh votes. Bengaluru South was represented by Ananth Kumar who passed away on November 12, 2018. Tejasvi Surya was announced as the candidate despite the demand to field Ananth Kumar's wife Tejaswini.
But Tejasvi Surya proved his mettle and helped retain Bengaluru South by securing 6,20,354 votes against Hariprasad's 3,39,719.
Bengaluru North
DV Sadananda Gowda has won the constituency yet again defeating Congress' Krishna Byre Gowda. Congress and JD(S) had left the ticket for the constituency at the mercy of Deve Gowda and fielded Byatarayanapura MLA Krishna Byre Gowda at the last moment when Deve Gowda decided to contest from Tumakuru. However now with this defeat Byre Gowda is left with no seat, as he resigned as an MLA to fight the MP election.
Sadananda Gowda secured 6,89,638 votes and Krishna Byre Gowda managed to get 5,79,060 votes.
Bengaluru Rural
DK Suresh of Congress has saved the face of the party as he successfully retained hold in the constituency. DK Suresh, brother of Congress troubleshooter DK Shivakumar secured 5,29,460 votes against BJP's opponent Ashwathnarayana who got 4,05,332 votes. In 2014, DK Suresh had won against BJP's Muniraju Gowda by securing 6,52,723 votes against his opponent who obtained 4,21,243 votes. 
Last Updated May 23, 2019, 3:56 PM IST