Cubbon Park police arrest duo for forging Siddaramaiah's sign
The police officials found that Siddaruda had earlier applied for a Kuruba community hall in 2016, and had been visiting Vidhana Soudha for the approval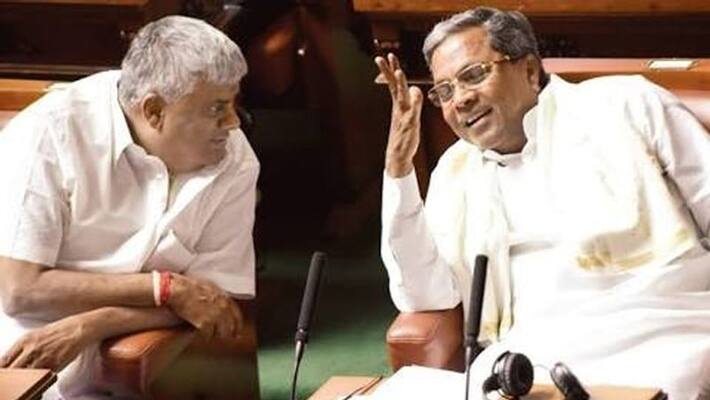 The Cubbon Park Police in Bengaluru arrested two men for forging former Karnataka chief minister Siddaramaiah's signature in a document.
The two are identified as Siddaruda, president of the Kuruba Union in Timmapura village and Gurunath, a stenographer who used to work in the Chief Minister's Office (CMO).
According to reports, the accused had written a letter to the secretary of the backward classes welfare department, requesting to sanction Rs 200 crore to construct a Kuruba community hall in Sangolli, Belagavi. However, the two were arrested after senior officials at the office became suspicious of the letter.
Based on the further investigations, the police officials found that Siddaruda had earlier applied for a Kuruba community hall in 2016, and had been visiting Vidhana Soudha, the state secretariat, for the approval. After he was introduced with Gurunath, he shared his plans with him.
Later, the two decided to write a letter and forge Siddaramaiah's signature on the document. The secretary suspected the signature was forged and with the further investigation confirmed the same.
The Cubbon Park Police were alerted, who then caught the duo after investigating the case completely. They initially had suspected around 50 people, from whom they later narrowed in on the two accused.
The case was earlier filed with the Vidhana Soudha police station and was later transferred to the Cubbon Park Police officials, who then took up the case. Both Siddaruda and Gangadhar have been taken into police custody.
Similarly, in December 2018, backward classes welfare minister C Puttaranga Shetty's stenographer, SJ Mohan Kumar, was caught in possession of Rs 25 lakh at Vidhana Soudha. Later, he alleged that the cash was given to him by a few contractors, who were offering the same as a bribe to the minister.
Last Updated Jan 27, 2019, 3:35 PM IST