Congress social media woman makes explosive sexual harassment charges against seniors, writes to Rahul Gandhi
"Mr Patnaik and I sat beside each other in the office at a distance of approximately 1.2 metres. Between us was an extended platform of drawers which he would rest his legs upon, pointing his shoes at me in a manner most disgraceful and disrespectful…I also found his gazing at the contours of my body very violating and hurtful. It was almost a daily ordeal for me."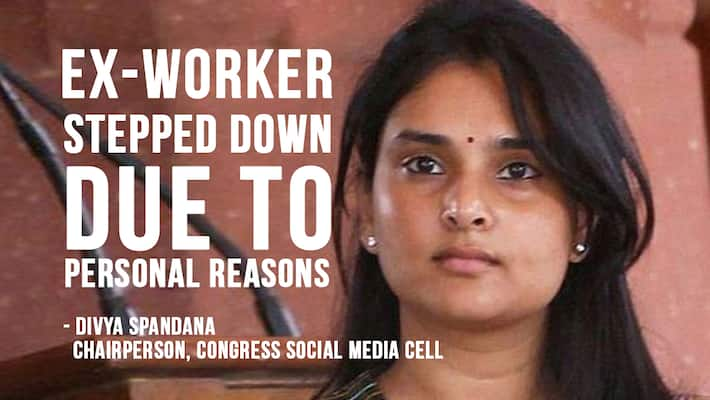 A 28-year-old woman, who was working in the Congress social media cell, has dropped a bomb on the party. She has lodged complaints with the police and Congress president Rahul Gandhi, accusing the chairperson of the party's social media cell Divya Spandana (pictured above) of professional harassment. She has also brought serious sexual harassment charges against Spandana's aide Chirag Patnaik, undermining Gandhi's repeated proclamations on how Congress stood for women's empowerment.
The victim, who lodged a formal complaint with Delhi Police Commissioner Amulya Patnaik detailing the circumstances of the alleged molestation on June 11, belongs to a minority community.
An FIR has been registered in this connection. Nausheen Haider (name changed), also sent a detailed letter to Rahul Gandhi and AICC grievance cell chairperson Archana Dalmia on June 28.
"While I was busy concentrating on my computer screen, Mr Patnaik encircled me from behind in a manner most immoral, pretending to check the tweets," she wrote.
She continued, "He also exhaled into my breathing space whenever he encircled me — an act that was absolutely disgusting and immoral. He also tapped on my hands and shoulders, an act that was totally unnecessary and made me extremely uncomfortable.
"Mr Patnaik and I sat beside each other in the office at a distance of approximately 1.2 metres. Between us was an extended platform of drawers which he would rest his legs upon, pointing his shoes at me in a manner most disgraceful and disrespectful…I also found his gazing at the contours of my body very violating and hurtful. It was almost a daily ordeal for me."
According to the victim, she had brought the matter to Spandana's notice, but to no avail.
She further explained, "Since he had the power to get anyone fired from the office, I tolerated his behaviour initially, out of the fear of losing my job. However, towards the end of my tenure, even on May 22; I made several verbal and non-verbal communication of a strong disapproval of his misbehaviour [sic]."
Haider had joined the social media cell of the Congress on the March 5. She was hired as "Social Media Manager" and was given the responsibility of running the official Twitter account of the Indian National Congress (@INCIndia) and its communications handle (@INCSandesh).
She reported directly to Spandana and her work involved coordination with Patnaik, "who also manages the office". The harassment allegedly happened at the party's social media headquarters at Gurdwara Rakabganj.
"My fight is a fight between a person (me) and the department (social media department of Congress). It is not a fight between me and the party. I want those responsible punished. The onus is now on the High Command (of the Congress party)," the victim told Asianet News.
The victim has also accused Spandana of mental harassment after she had brought the matter to her notice.
"I tried to complain to Divya about his behaviour on May 14. However, she refused to listen to my complaint and diverted the topic to my work performance instead," she wrote.
"The period between May 17 and May 24 was marked with mental harassment. Despite knowing I was disturbed, Miss Spandana did not correct her behaviour towards me. She humiliated me with insulting work-related messages on the office group for no fault of mine. My professionalism and manners were also questioned. I broke down inconsolably on the May 23 and never returned to the office," she added.
Spandana, in a statement, claimed that the complaints committee had not received any such complaint from the victim.
"We have now reached out to the ex-worker and awaiting her response in the matter," Spandana said. She also attached the signatures of 39 members of her team who stood by the accused.
"The reasons stated by the ex-worker for her stepping down was due to personal reasons and health issues and not related to the worker in any manner whatsoever. The resignation letter in fact stated - 'I loved working here, thank you for giving me the opportunity'," Spandana said in her media statement.
According to the complaint, since the "general protocol was that she would run the official tweets by him before posting them", Patnaik allegedly misused his position to sexually harass her.
Last Updated Jul 4, 2018, 6:53 PM IST