Bukkapatna Chinkara Wildlife Sanctuary in Tumakuru gets notified by Karnataka government
Bukkapatna Chinkara Wildlife Sanctuary has a unique savanna habitat which is essential for the survival of the rare chinkara. The state board for wildlife has made the sanctuary a certified protected chinkara habitat.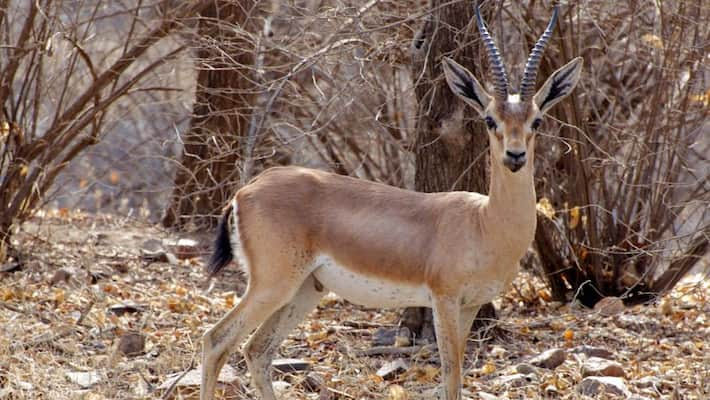 Bengaluru:  The Bukkapatna Chinkara Wildlife Sanctuary in Tumakuru district has been notified by the Karnataka government. Located in the Sira Taluk of Tumakuru district, Bukkapatna sanctuary spans over 148 square km and is the southernmost tip of the distribution range of chinkara in India.
Wildlife biologist, Sanjay Gubbi, is primarily credited with leading efforts to have the chinkara sanctuary in Tumakuru recognised. Sanjay Gubbi first found chinkara at Bukkapatna while laying out camera trapping to study leopard movement, as part of a Nature Conservation Foundation program. He later suggested notifying a set of reserved forests as chinkara wildlife sanctuary. Gubbi is now a member of the state board for wildlife.
According to Gubbi, scientific estimates show that there are about 80 chinkaras in Bukkapatna area. He also said that this is perhaps the largest population in the state. Gubbi stated that the woodland savanna habitat that Bukkaptna is very crucial for the survival of chinkaras. He said that Bukkapatna has one of the finest woodland savanna habitats, but that developmental activities these days have made these habitats highly endangered. He lamented that people do not have full knowledge of how unique the woodland savanna habitats are.
The related notification was issued on Thursday, May 16 after the proposal was given the go-ahead by the state board for wildlife in January under the chairmanship of chief minister HD Kumaraswamy.
Bukkapatna is just the second protected habitat for the rare chinkara in the state. Yedehalli in Bagalkot district is the first such sanctuary to be recognised in the state. Karnataka has three locations; Yedehalli, Bukkapatna and Rangayyanadurga Wildlife Sanctuary in Davanagere district, which are recognised as protected reserves for chinkaras.
Last Updated May 18, 2019, 3:48 PM IST