Building collapse in Bengaluru: Residents worried over slow-paced demolition
While a technical team from various organisations have begun assessing the process, a part of the tilted building in Hutchins Road, Bengaluru has been demolished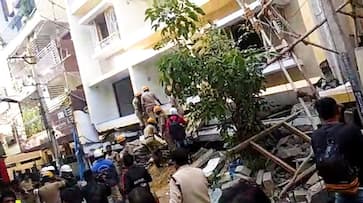 Bengaluru: Two days after the building collapse in Hutchins Road in Pulikeshi Nagar, residents are reportedly worried about the slow-paced demolition process. A technical team from various organisations have begun to assess the process.
A part of Sai Adi Ambal, the building which collapsed at the base causing it to tilt on to the next building, Sai Centillion, has been demolished.
An official from the State Disaster Management Authority reportedly said that two officials from Railways and Institute of Standards Engineers have visited to the site to assess the situation.
However, Usha, a resident of Sai Centillion reportedly said that some of the residents have still not recovered their belongings from the building, reports stated. Earlier reports stated that the Bruhat Bengaluru Mahanagara Palike (BBMP) would help the residents recover their belongings.
The BBMP had begun controlled demolition a day after the buildings collapsed.
Officials first demolished a water tank tower of the Conference of Catholic Bishops of India (CCBI) which was right behind the under-construction building that collapsed. 
Two buildings collapsed in Bengaluru on July 10 (Wednesday) when one under-construction building toppled and damaged the adjacent one. Five people were killed, and four people were injured in the incident.
Watch video here: 1 dead in Bengaluru building collapse; 37 feared trapped

According to reports, faulty design of the under-construction building is the reason for the collapse. The foundation is only four feet deep. Moreover, the quality of the soil and the construction work are poor, reports said.
A senior engineer of the Bangalore Metro Rail Corporation Limited (BMRCL) helping the Bruhat Bengaluru Mahanagara Palike (BBMP) in technical aspects reportedly said that the demolition of buildings would take place in a span of four days. They are reportedly planning a top-down, controlled demolition process so that the adjacent buildings will remain unaffected.
Read full report here: Bengaluru building collapse: 5 dead, 4 injured
Last Updated Jul 14, 2019, 1:01 PM IST