Bengaluru building collapse: 5 dead, 4 injured
Faulty design of an under-construction building led to a domino effect in the residential area in Bengaluru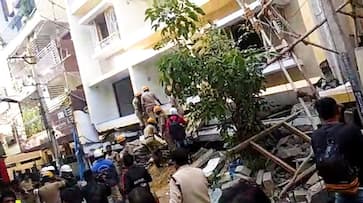 Bengaluru: Two buildings collapsed in Bengaluru on July 10 (Wednesday) when one under-construction building toppled and damaged the adjacent one. Five people were killed and four people were injured in the incident. 
The two buildings are on 2nd cross, Hutchins Road at Thomas Town in Pulakeshinagar. 
As the under-construction building collapsed and hit Sai Adi Ambal -- an apartment -- the first floor of the latter collapsed while the second floor got sandwiched between the third and fourth floors. Something similar happened with the under-construction building as well.
Almost 100 personnel from various agencies were involved in the 12-hour rescue operations that took place yesterday. 
According to reports, an official of the fire and emergency services said that the narrow roads in the residential area made it difficult to manoeuvre their vehicles.
The efforts of the rescue team were hampered by the nature of the collapse as well.
According to reports, faulty design of the under-construction building is the reason for the collapse. The foundation is only four feet deep. Moreover, the quality of the soil and the construction work are poor, reports said.
Watch video here: Bengaluru building collapse
Both buildings would be demolished, reports said.
A senior engineer of the Bangalore Metro Rail Corporation Limited (BMRCL) helping the Bruhat Bengaluru Mahanagara Palike (BBMP) in technical aspects reportedly said that the demolition of buildings would take place in a span of four days. They are reportedly planning a top-down, controlled demolition process so that the adjacent buildings will remain unaffected.
Residents of the buildings adjoining the two damaged buildings have been evacuated, following safety measures.
Mayor Gangambike Mallikarjun visited the area and directed the officials to take necessary action against those who were responsible for the incident. This includes the engineer who permitted construction of the extra floors, the builder and owner of the under-construction building as well.
The mayor offered a compensation of Rs 5 lakh to the family of the deceased.
Last Updated Jul 11, 2019, 3:16 PM IST