Bengaluru Traffic Police spread awareness on revised fine amounts, hand over pamphlets
Traffic policemen have been deployed at the entry and exit points of roads and at junctions to handover pamphlets with a message to follow traffic rules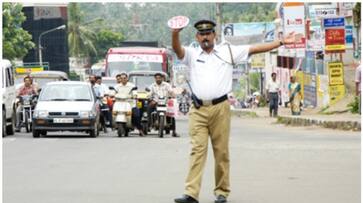 Bengaluru: With date for implementing the revised fines for traffic rules violations nearing, the traffic police are busy with awareness campaigns. The new set of fines will be implemented from July 20.
Traffic policemen have been deployed at the entry and exit points of roads and at junctions to handover pamphlets with a message to motorists to follow traffic rules.
Additional commissioner of police (Traffic), P Harishekaran reportedly said that their aim is to create awareness on traffic rules among motorists and not to collect hefty fines from them. He also said that it is important for people to be informed of the revised fines for various violations.
All traffic policemen have been asked to focus on spreading awareness and not penalising violators as part of the campaign.
A senior police officer reportedly said that the traffic police have been asked to put up sign boards at major junctions stating the number of fatal and non-fatal accidents that have occurred in the last three years. He said that this will help reduce road accidents to an extent.
According to reports, Jithin Vincent, a software engineer with a multinational company allegedly mentioned on the traffic department's website that the police are more focussed on collecting fines from violators.
A manager with a private firm, Umashankar Puttaswamappa reportedly said in his post that the traffic police collect half the fine amount without receipt. He allegedly said that the revised fines will only help the traffic police rather than serve its purpose.
However, senior officials said that they conduct frequent surprise checks in response to alleged bribery charges.
Harishekaran reportedly said that they have asked the towing personnel and police staff to follow rules and not be harsh on violators.
Last Updated Jul 15, 2019, 2:22 PM IST