Bengaluru lake pollution: Engineering student offers fruity solution to frothy problem
When authorities like the BDA, BBMP, BWSSB and the State Pollution Control Board are still in search of an answer to tackle the frothy menace in the fiery lakes of Bellandur and Varthur, an engineering student claims to have worked out a solution using fruit peels.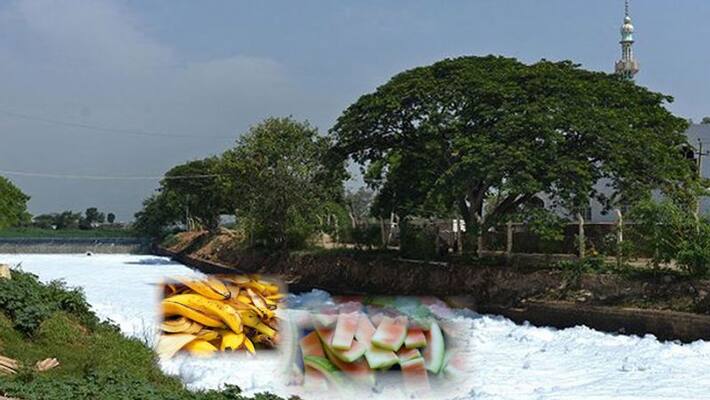 Bengaluru: Worried by the pathetic state of Bellandur lake and Varthur lake that made news worldwide, an engineering student claims to have come up with a low-cost solution.
Pavan Reddy, an aeronautical engineering student studying at MVJ Engineering College recently undertook a project that primarily uses fruit peels to reduce pollutants and filter out effluents that cause the toxic froth. 
As multiple stakeholders like Bengaluru Development Authority (BDA), Bangalore Water Supply and Sewage Board (BWSSB), Bruhat Bengaluru Mahanagara Palike (BBMP) and Karnataka State Pollution Control Board (KSPCB) have tried to come up with a solution to no avail, Pavan, a first-year student used watermelons, banana, pineapples and citrus peels to create a low-cost solution that he claims could clear out pollutants in water.
The peels of watermelons, lime, pineapples and bananas are sun-dried and treated with mild acid. These peels are placed one above the other in a filter separated at a small distance between each other such that the water flows through the peels without stagnating. Contaminated water or the effluent is passed through the filter from a higher gradient.
Senior scientific officer from Karnataka State Pollution Control Board, B Nagappa concurred that the test results show an improvement in water quality. "The use of fruit peels of bananas, watermelons and other citric fruits used in the research have indicated that the pollutants in water reduced considerably," said the officer.
Lauding the efforts of Pavan for his research, Friends of Lakes Convenor, Ram Prasad, says the fruit peel method has been in existence for some time and students should be encouraged to test small ponds to treat polluted water.
"The fruit peel method is a good and it yields results. However, the same method may not be feasible for lakes," said Ram Prasad.
Not much can be said about its implementation as testing is in progress. The solution still has long journey ahead in terms of approvals, feasibility of this solution on a larger scale. The good news is that this solution now has the consideration of the Pollution Control Board and is a ray of hope in the white cloud that surrounds the city.
Last Updated Feb 9, 2019, 2:34 PM IST