Bengaluru is ahead of the game: 4 iconic sports stadiums in city
From M Chinnaswamy Stadium to Karnataka Hockey Stadium, here is a list of four iconic stadiums that have become Bengaluru's noted landmarks.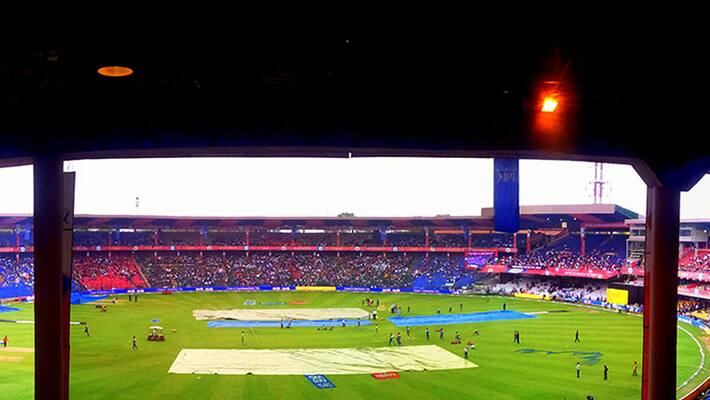 Bengaluru: While several people know only M Chinnaswamy Stadium and Sree Kanteerava Stadium in Bengaluru as they host well-known tournaments such as the Indian Premier League (IPL) and Premier Badminton League (PBL), there are other stadiums in the city that host other games and shows.
Here are four iconic sports stadiums in Bengaluru. 
1. M Chinnaswamy Stadium:
This four-decade-old stadium is situated in the heart of the city and has a seating capacity of around 40,000. The stadium is also the home ground of the Indian Premier League (IPL) franchise Royal Challengers Bangalore (RCB). The stadium is built on a land owned by the Indian Army and has been leased out through the government of Karnataka to the Karnataka State Cricket Association (KSCA) for 99 years.
2. Sree Kanteerava Stadium:
This is a multi-purpose stadium in Bengaluru and is used majorly for athletics, football (Indian Super League) matches. It also includes outdoor rock climbing walls, football field, running track and a volleyball court. The stadium was built on top of a lake, which was later developed into a synthetic track for the 1997 National Games. This stadium presently serves as a home ground for ISL club Bengaluru FC.
3. Karnataka State Hockey Stadium:
This stadium is also known as Bengaluru Hockey Stadium and is home to Karnataka Lions. The seating capacity of this stadium is 7,000. The first semi-finals of World Series Hockey was hosted here in 2012.
4. Bangalore Football Stadium:
This stadium is also a multi-purpose stadium in Bengaluru. The stadium mainly hosts football matches and had been the chosen venue for three editions of the Hero I-League. This stadium was also home to Bengaluru FC for one season after their win in I-League trophy during their first attempt.
Last Updated Jan 17, 2019, 7:49 PM IST