Bengaluru heat takes toll on birds: Here is experts' advice for citizens, helpline numbers
With the daily temperatures crossing 34 degrees, the rescuers and rehabilitation centres for animals are witnessing an increase in rescue calls. According to People For Animals, Wildlife Hospital and Rescue Centre, every day about 10 birds like black kites, house crows, pigeons, and barn owls are rushed to the centres by rescuers. The experts advised the public to keep a water bowl on rooftops to save birds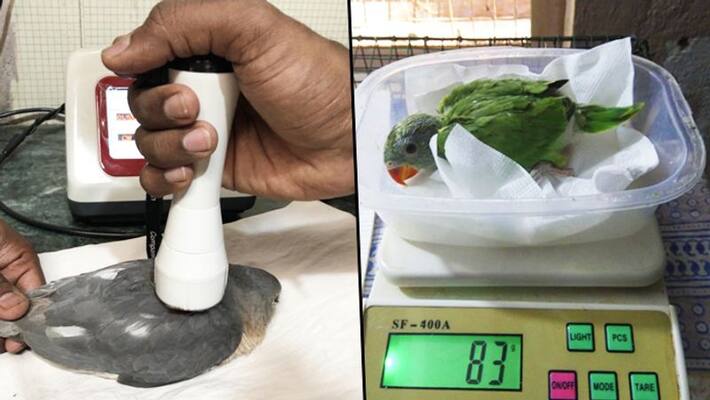 Bengaluru: As the city's temperature is likely to remain over 34 degrees, the animal and bird rehabilitation centres have witnessed an increase in the number of aviary birds falling from the sky.
According to the Bruhat Bengaluru Mahanagara Palike (BBMP) wildlife rescuers, in a day at least 10 such calls are being attended and birds are sent to wildlife rehabilitation centres for treatment.
BBMP wildlife volunteer, K Mohan said, about 33 such volunteers are working in 198 BBMP wards and receive calls from across Bengaluru.
"In the last few years, we started getting calls from February onwards as the temperature is rising. More calls are coming from areas like Shivajinagar, Richmond Circle, Marathalli, Koramangala, Hebbal, and other central areas of Bengaluru. The usual complaint is of dehydration as the water sources are drying up and many open places are converted into house complexes," said Mohan.
Colonel Dr Nawaz Shariff, general manager and chief veterinarian at a rehabilitation centre in Bannerghatta, says apart from dehydration there are also cases of birds getting stuck in manja threads used in kite flying. Also there are injuries as the birds fall from nests since this is the nesting season.
"Since January 2018, 768 birds have been rescued. In that 361 are black kites, 42 are barn owls, 52 rose-ringed parakeet and other varieties of birds," said Colonel Dr Shariff.
Colonel Dr Shariff suggested that to save urban wildlife and aviary birds this season, every household should keep a water bowl on their rooftop as birds can quench their thirst. The birds can be rushed to rehab centres or call BBMP volunteers for help.
"If the small birds are found grounded and are not moving, take them to cool spots, place a small water bowl and also few feeding grains, in case of big birds like kites, crows and owls, keep large bowl filled with water and place few chunks of meat of chicken waste. In a day or two, the birds will be ready and take to the sky," said Colonel Dr Shariff.
For more information and rescue of birds and animals, one can reach the People For Animals, Wildlife Hospital and Rescue Centre on 9900025370/9980339880/080-28612767.
Last Updated Mar 15, 2019, 1:18 PM IST