Bengaluru: Father's relentless efforts of 7 years leads to cure for Duchenne Muscular Dystrophy
A businessman from Bengaluru opened a lab to find a cure for his son who was diagnosed with Duchenne Muscular Dystrophy. Seven years of efforts resulted in the solution to the condition.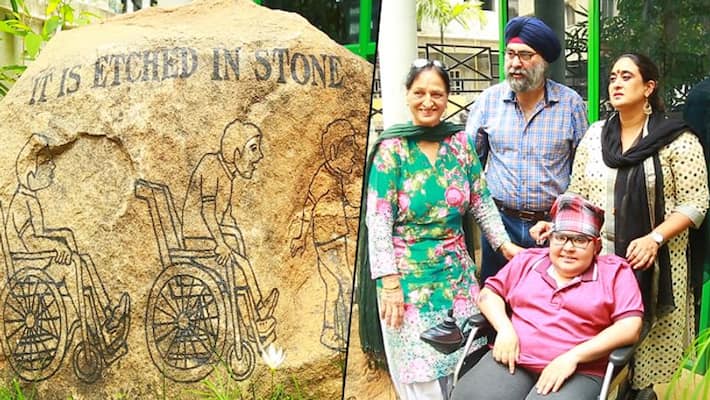 A Bengaluru based businessman Ravdeep Singh Anand founded a research laboratory called Dystrophy Annihilation Research Trust to find a cure for his son who was diagnosed with a rare disease called Duchenne Muscular Dystrophy.
It started when Karanveer was just two and a half years old and his parents observed that he was having difficulty in getting up on his feet and walking. They took him to doctor who pointed out that this was a serious issue but could find the cause of the affliction. When Karanveer was eight years old he had to undergo surgery on his leg, but that did not help much, and the problem persisted. It was only after a series of blood tests in 2007 that they found out he had been suffering from Duchenne Muscular Dystrophy (muscle degeneration).
As there was no cure for this disease, the only way to manage it was physiotherapy, steroids and energy supplements which would only slow down the progress of disease.
He tried Allopathic medicine, Homeopathy and even faith healing but nothing seemed to work. Anand was then informed by doctors that most of research on muscular dystrophy was being conducted abroad. It was then that Anand started looking for scientists who could conduct research studies on the disease. He met Dr Arun Shastry (chief scientific officer of DART).
A team of seven scientists led by Shastry then started a research lab under the banner Dystrophy Annihilation Research Trust in 2012 in Chennai and later shifted their base to Bengaluru. Dr Shastry was sent to Australia and was trained in Murdoch University.
Shastry said, "We needed a particular machine from Sweden which can make this drug, but the machine was very costly and as this trust is run only by a few parents, we did not have that kind of money. So, Anand's mother mortgaged her last piece of property to procure the machine in 2015."
The research team have reached a stage where they have molecules available for 85% of Duchenne Muscular Dystrophy patients. They received approval from Indian Council of Medical Research to conduct the study on Karanveer who has been on medication and has shown a lot of improvement. The team is now waiting for approval from regulatory bodies to expand clinical trials.
"Medicine approved in USA would cost Rs 2 crore per child per year while we have brought the cost down to Rs 15 lakh per child per year, he said. 
Karanveer is looking to pursue his Bachelors' in Biotechnology, Chemistry and Microbiology at MS Ramaiah College on a full scholarship and wants to take over research on other rare diseases which do not have a cure yet.
By Shafaque Kainat
Last Updated May 29, 2019, 3:51 PM IST