Bengaluru City Police lifts liquor sale ban from 6pm today
Bengaluru City Police tweeted that the ban on sale of liquor will no longer be in effect from 6 pm today (July 24)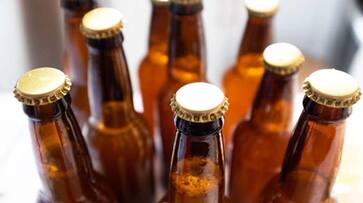 Bengaluru: Police took to Twitter an hour ago to inform the public that they have lifted the ban on sale of liquor in Bengaluru. Alcohol will be available in stores from 6 pm today (July 24).
City police commissioner, Alok Kumar on July 23 had announced the implementation of section 144 in Bengaluru for 48 hours owing to tension in the city in the wake of the then possible collapse of Congress-JD(S) coalition government. He also stated that there would be a ban on sale of liquor and functioning of pubs and bars in the city until 6 am on July 25.
ದಿನಾಂಕ: 24-07-2019 ರಂದು ಸಂಜೆ 06-00 ಗಂಟೆಯಿಂದ ದಿನಾಂಕ: 25-07-2019 ರಂದು ಬೆಳಿಗ್ಗೆ 06-00 ಗಂಟೆಯವರೆಗೆ ಬೆಂಗಳೂರು ನಗರ ಪೊಲೀಸ್ ಕಮೀಷನರೇಟ್ ವ್ಯಾಪ್ತಿಯಲ್ಲಿ ವಿಧಿಸಿದ್ದ ಮದ್ಯ ಮಾರಾಟ ನಿಷೇದಾಜ್ಞೆಯನ್ನು ಮಾತ್ರ ಹಿಂಪಡೆಯಲಾಗಿದೆ pic.twitter.com/r73VaPVHfX

— BengaluruCityPolice (@BlrCityPolice) July 24, 2019
Prohibitory orders were issued after Congress and BJP supporters gathered in front of an apartment in Bengaluru on Race Course Road and a fight broke out. The Congress supporters alleged that two Independents were lodged in the apartment located in the area.
The incident occurred when the trust vote session was about to begin in the state Assembly which was to determine the fate to the Kumaraswamy-led coalition government in Karnataka.
 Also watch: Karnataka coalition crisis: Congress workers protest in Bengaluru; commissioner issues prohibitory orders
Moments after the incident occurred, the Karnataka coalition government collapsed. The coalition government lost the majority by getting 99 votes in the trust vote session, that was held on July 23, against the 105 MLAs who stood in opposition.
BJP state president BS Yeddyurappa was seen waving the victory sign with his hand along with his supporters standing along with him after the House concluded for the day. 
Last Updated Jul 24, 2019, 5:28 PM IST