Auto driver hands over bag containing Rs 45,000, 2 iPhones to police, Commissioner applauds him
Autorickshaw drivers are often disliked for overcharging and refusing a ride. However, some of them remind us that humanity still exists. Syed Ahmed an auto driver handed over a bag containing Rs.45,000 to the police commissioner. The police traced the owner and returned it to its owner.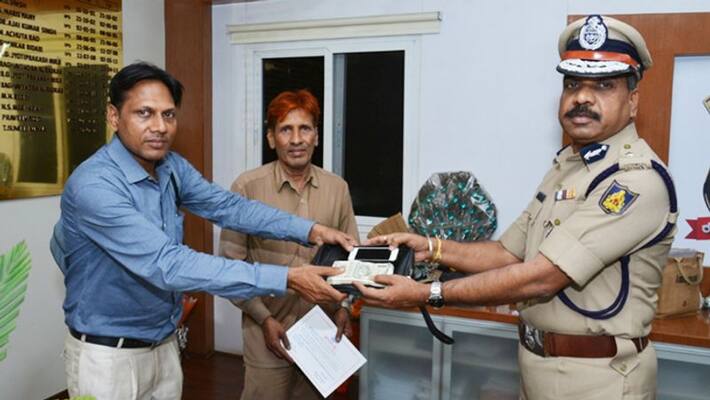 Bengaluru: An autorickshaw driver, Syed Ahmed has bagged praises after he returned a bag containing Rs.45,000 in cash and two iPhones belonging to a passenger. 
The bag was left behind on May 22 at 5:30 am. Syed Ahmed said that Promodh Kumar Jain had boarded his rickshaw at 5:15 am from Gandhi Nagar and he was dropped off at City Railway Station. Ahmed added that the passenger was in a hurry and forgot to pick up his bag.
Later, another passenger who boarded the auto, informed the driver about a bag.
Realising that previous passenger had left behind, Ahmed reached the City Police Commissioner office and met the officials. 
It was only when the authorities checked the bag, it came to light that Rs.45,000 cash and two iPhones were in it.
"I am a true Muslim and it is the holy month of Ramzan and during this month our good deeds should be doubled. I am thankful that I got an opportunity like this. The passenger named Promodh Jain must have been worried initially about the loss of his bag, but he breathed a sigh of relief after police informed about him about it. I am happy I did something like this." said Ahmed.
City Police commissioner later handed over the property to the rightful owner Promodh Jain asking him to be careful every time he boards an auto or taxi.
The Commissioner T Suneel Kumar also issued a certificate of appreciation to Syed Ahmed.
Last Updated May 24, 2019, 10:32 AM IST