Alok Kumar hits jackpot as CM Kumaraswamy makes him Bengaluru city police chief; 19 IPS officers transferred
After months of speculation, the Karnataka government had finally made a shakeup in the police department. Among the major changes, Alok Kumar, additional commissioner of police gets rewarded as Bengaluru city police commissioner. He is set to take charge from T Suneel Kumar, who will now be serving as ADGP (recruitment)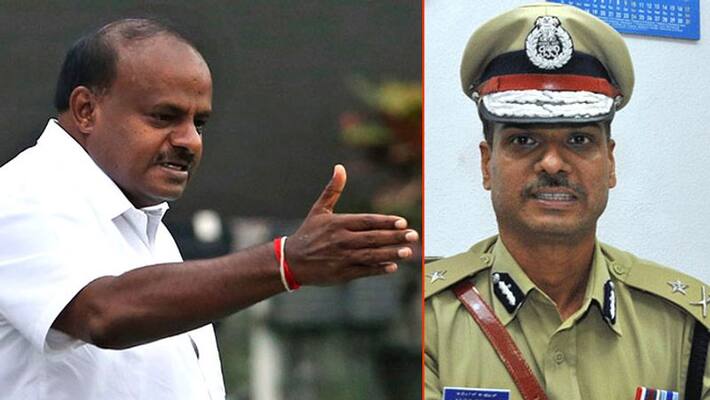 Bengaluru: After months of speculation over transfers of police officers, 19 IPS officers in Karnataka have been transferred. One of the major transfers was of IPS officer Alok Kumar as he is all set to become Bengaluru city police commissioner.
Incumbent police commissioner T Suneel Kumar will now be heading police recruitment as he has been made additional director general of  police (recruitment).
Kumar is said to be close to Karnataka chief minister HD Kumaraswamy and apparently it was Kumaraswamy who brought in Alok Kumar back into Bengaluru police commissionerate last year. Kumar was serving as IGP, northern range.
Although Kumar's name was dragged into an infamous lottery scam during CID investigation where lottery scam kingpin Pari Rajan had told that he was an acquaintance of Kumar then, he had to face suspension in 2015. However, he sailed through  the tough situation and he was reinstated, later he was transferred out of Bengaluru city police commissionerate.
After Kumaraswamy's coalition government came into existence last year, Kumar was brought in and made additional commissioner of police, Bengaluru city. And his handling of the Ponzi Ambident scam in which Kumaraswamy's adversary Gali Janardhana Reddy's name was dragged, the chief minister took note of it and now with the IMA scam making national headlines, in which many politicians and bureaucrats are said to be involved, the JD(S) leader may think Kumar's investigation skills may help the government.
Along with IPS officers Kumar and Suneel Kumar, 18 more IPS officers have been transferred. As per the notification, Amrit Paul, IGP administration, Bengaluru is transferred. He is made IGP eastern range. IGP Umesh Kumar, southern range, Mysuru, is transferred as additional commissioner, east, Bengaluru.
BK Singh, additional commissioner, east, will now be the secretary to the government, home department.
Soumendu Mukherjee, IGP eastern range, Davangere, is transferred to head internal security, Bengaluru. Similarly Raghavendra Suhasa, IGP, northern range is transferred as IGP southern range, Mysuru.
BR Ravikante Gowda, IGP fireforce, is transferred and made deputy inspector general of police, crime, Bengaluru.
B Ramesh who was SP, special task force, vigilance and BDA, is made DCP west division. Ravi D Channanavar, DCP west, will now be working as SP, CID, Bengaluru.
Similarly, Bheemashankar S Guled, SP Railways, Bengaluru division, will be discharging his duty as DCP, north-east division. MA Anuchet, DCP administration, will now be discharging duties as SP Railways, Bengaluru division. N Vishnuvardhana, who was waiting for a posting, is made DCP admin, Bengaluru.               
CR Ryshanth, SP anti-corruption bureau, is transferred and made SP, Mysuru district. In his place, SP Bengaluru, rural SP Ram Nivas Sepat is transferred. TP Shivakumar, commandant home guards and civil defence will now be heading Bengaluru rural as he is made SP.
Mohammad Sujeetha MS, commandant 4th battalion to KSRP, is transferred as KGF (Kolar Gold Fields) SP.
Kala Krishnaswamy, DCP, north-east division is transferred as director, forensic science laboratory, Bengaluru.
Last Updated Jun 17, 2019, 1:36 PM IST