Admissions open in Bengaluru: Education expo offers students chance to weigh their options
With the country's well-known colleges and universities coming together in one place, Education Expo will be a huge platform for the students and parents to choose the right educational institution based on their key of interest.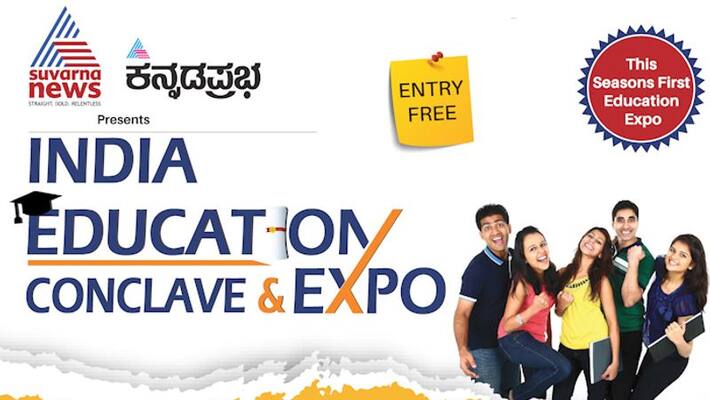 Bengaluru: While several students are confused about which course or college to attempt to gain admission into after completing their SSLC and PUC, "India Education Conclave & Expo" organised by Suvarna and Kannada Prabha is all set to help the youth make the right decision based on their interests and talents.
The Education Expo will be held in Bengaluru and other educational institutes across the state on March 30 and 31 while actress Pranita Subhash and West Division DCP Ravi D Channanavar will be present at 10:30 am on Saturday at Shalini playground in Jayanagar T block to address the gathering.
This Expo has been organised to eliminate the confusion of students and parents on the pivotal next step after SSLC and the PUC. The expo will introduce aspirants to what the colleges can offer in terms of courses, faculty, infrastructure, laboratories, college campus and specializations.
It can be a very tiring experience to hop from one college to another and obtain information, Education Expo makes it easier for students to weigh their options in one go.
In a recent panel discussion on a news channel, Rajkumar HD, the dean of Venkateswara Engineering College, enlightened viewers on the key to choosing a college or a course. Along with him, Reva University's chancellor SY Kulkarni and Amrita School of Engineering's head of electrical engineering, Rashmi spoke about the specialities of their colleges.
The colleges and universities which will be attending the India Education Conclave & Expo are PES University, REVA University, GITAM  University, Community Group of Institutions, Cambridge Institution of Technology, Excel Academics, Krupanidhi Group of Institutions, Ramaiah University, Presidency University, The Oxford Educational Institutions, IFIM Institutions, Shraddha System of Excellence, Kunigal Valley International School, Amrita School of Engineering, Arena Animations, Vision PU college, Bangalore Study.com, Jnanasarovara International School and VBR PU College & Academy.
Last Updated Mar 29, 2019, 6:07 PM IST