PM Modi follows the path of Dr. Ambedkar
Dr. Ambedkar's doctoral thesis has many economic reform guidelines.
Dr. Ambedkar knew that the problem of the rupee is linked to the problem of domestic inflation.
The current government move are in-line with many suggestions by Dr BR Ambedkar.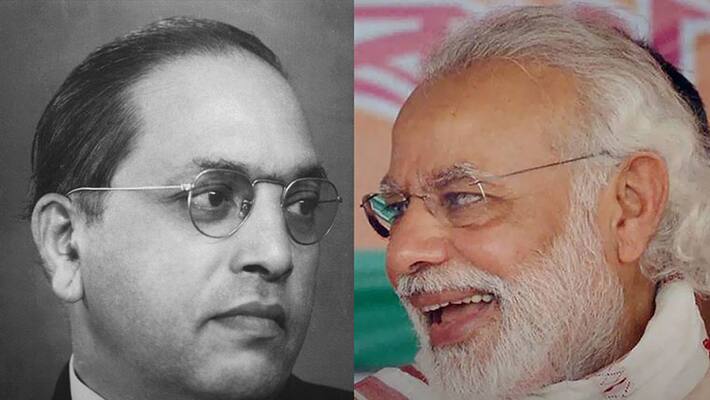 Recently, as part of the 125th birth anniversary year celebrations of Dr B.R. Ambedkar termed as Mahaparinirvan Divas, Prime Minister Narendra Modi released commemorative coins that are of '10-rupee' and '125-rupee' denomination. 
Now, by scrapping currencies of ₹ 500 and ₹ 1000 denominations, Modi is trying to regulate the Indian economy according to the guidelines set by Dr Ambedkar's in his London doctoral thesis "The Problem of the Rupee: Its Origin and Its Solution".
In his work, he suggested that the inflation and black money currency can be controlled by changing currency once in every 10 years through a short notice period. 
Dr. Ambedkar also provided many suggestions and answered many questions related to inflation and in particular inflation in India. 
On a statement written to the Royal Commission on Indian Currency and Finance, Ambedkar stated "The more important point is, supposing that there is a gain arising from low exchange, whence does this gain arise? It is held by most businessmen that it is a gain to the export trade and so many people have blindly believed in it that it must be said to have become an article of faith common to all that a low exchange is a source of gain to the nation as a whole. Now if it realised that low exchange means high internal prices, it will at once become clear that this gain is not a gain coming to the nation from outside, but is a gain from one class at the cost of another class in the country."
Dr. Ambedkar knew that the problem of the rupee is linked to the problem of domestic inflation. On his thesis, the noted economist pointed out that "...nothing will stabilise the rupee unless we stabilise its general purchasing power".
In other words, he was in favour of price stability and automatic monetary management known as rule-based monetary policy at present. 
In an open economy, nothing will stabilise the rupee unless the economy stabilises its general purchasing power. Now, the government has to take up the challenge of stabilised economy. Otherwise, the whole effort may go in vain within a few years, as it happened during Morarji Desai and Indira Gandhi's era, who tried to do the same with ₹ 100 currency notes.   
The current government's recent move is one wise one or politically motivated only time will tell. But, for the time being, it can be said that consciously or unconsciously Modi is following what was suggested by Dr BR Ambedkar. 
Last Updated Mar 31, 2018, 6:53 PM IST