Dhanteras 2023: 6 Popular gifts to give on auspicious festival
Dhanteras, known as Dhanatrayodashi or Dhanvantari Trayodashi, is a significant Hindu festival celebrated two days before Diwali, the festival of lights. According to religious beliefs, it was on this day, during the churning of the ocean (Samudra Manthan), that Goddess Lakshmi appeared.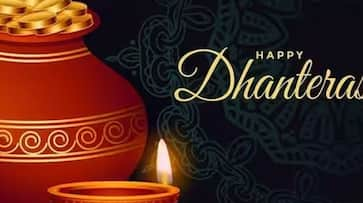 In Hinduism, Dhanteras are of an important significance. This day is also known as Dhantrayodashi. Dhanteras is considered an extremely auspicious day. Some people have doubts about the date of Dhanteras. So, let's find out the date of Dhanteras and the auspicious timing for the puja. We will also learn about the auspicious timing for purchasing on this day. Dhanteras falls on the 13th day of the Krishna Paksha (waning phase of the moon) in the Hindu month of Ashwin, usually in October or November, according to the Gregorian calendar.
ALSO READ: Diwali 2023: Easy step-by-step recipe to make delicious Kaju Katli at home
Making this auspicious occasion more special and memorable, here are the 6 popular gifts you can give to your loved ones on this day.
1. Gold and Silver Jewellery: 
Traditional favourites for Dhanteras, gifting gold or silver jewellery signifies wealth and good luck. It is known to be extremely lucky and auspicious to buy either gold or silver on Dhanteras because purchasing them will bring prosperity and wealth to households.
2. Coins:
Gifting gold or silver coins with the imprint of Goddess Laxmi is considered auspicious for prosperity.
3. Utensils:
Presenting metal utensils, such as brass, silver or copper cookware, filled with either dry fruits or fresh flowers, adds a touch of elegance to your Dhanteras gifts. This practical yet thoughtful gesture is sure to be appreciated by your loved ones.
4. Electronic Gadgets:
Modern gifts like smartphones, laptops, or kitchen appliances are popular choices, reflecting contemporary lifestyles. For tech enthusiasts, gadgets are an ideal choice. Take advantage of the festive discounts offered by online platforms like Flipkart and Amazon to buy the latest electronics.
5. Home Decor:
Decorative items like candle holders, wall hangings, or idols of deities, especially Goddess Lakshmi, are thoughtful gifts.
6. Clothing:
Gifting new clothes on Dhanteras symbolizes renewal and prosperity. It is a gesture of starting anew.
ALSO READ: Diwali 2023: 12 must-have items for a meaningful pooja
Last Updated Nov 10, 2023, 7:30 AM IST