Know the essentials o packing that you need to have irrespective of what, where, when and how
What you pack depends upon the destination, the weather, duration of stay and the activities that you have planned
If you are too lazy to make a list but blessed with high speed internet, there are a few apps that can help.
With the onset of summer, we are ushering in 2017's travel season and with this comes the excruciating task of packing for your favourite travel destination this season. Don't panic. I know that doesn't help so I am here to help you through the most boring part of your travel planning.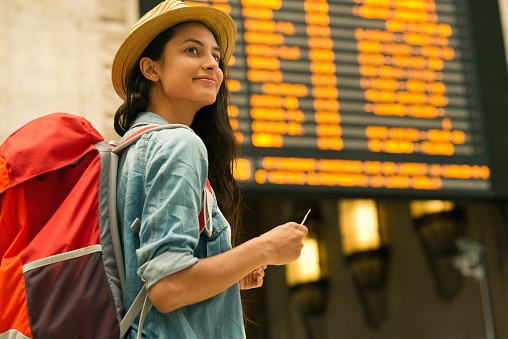 I have been travelling (alone) since I was an 18-year-old who had no sense of how one is supposed to pack a suitcase. Obviously, I have evolved through the years and gained a lot of experience from the mistake that I've made and I'm here to share it all with you.
Before I get into more details on how you can pack, let's first discuss the essentials that you need to have irrespective of what, where, when and how.
Also check out Travelling for Dummies: Part I - Planning if you are just getting started. 
What's in my Carry-on bag?
I usually carry a hand bag (with comfortable straps) which is big enough to carry all my immediate requirements but not large enough to qualify as a check-in bag.
Here's what's in my carry-on bag: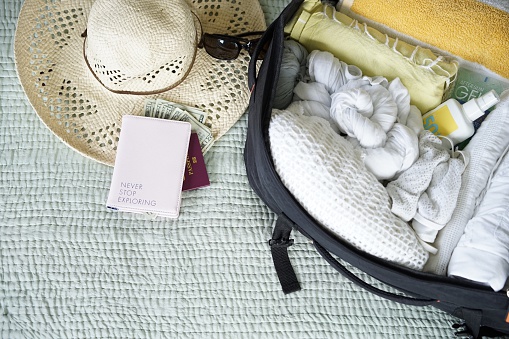 Electronics –phone and charger, universal adapter, head phones or ear phones, wire pouch (to contain the mess), iPad and charger (I load movies and books that I would like to watch/read on long flights in case there is no inflight entertainment. Also, I can't sleep during travel)
Wallet and ID
Travel document case - itinerary, passport, tickets, hotel reservations, list of contact numbers (there are a variety of pouches that look like cases to keep all your travel documents in one place. This is better than to have a file to carry along)
Small, lightweight notebook and pen (I like to document things that I find interesting for my blogs. They also come in handy to fill out forms or take notes.)
Scarf / shawl
Travel Kit - eye mask, ear plugs, pair of warm ankle socks (I get very cold), inflatable neck pillow, chap stick, travel pack lotion (my skin gets really dry in air-conditioned environments), facewash, basic make-up (light foundation, kohl, mascara, lipstick), body mist (100ml)
Basic first aid kit – antacids, anti-allergens, aspirin, band-aids, cloth bandage, burn ointment, pain relief spray.
Pair of lightweight and wrinkle free tops (in case of wardrobe malfunctions and loss of baggage)
Sunglasses
Extra combination lock
I usually avoid carrying a laptop for travel but if you must, carry a smaller laptop case instead of the big ones that you usually take to work. These tend to be heavy to lug around everywhere.
Note: If travelling in trains within India, you should also carry a bedsheet, inflatable pillow with case and a lightweight blanket/ cover up. Most trains in India (depending upon the class of travel) do not supply these and may not be clean enough even if they do.
There are also a few essentials that you should ideally have in your checked in bag that come in handy apart from your clothes and other items. Here's what I pack:
Essentials for the big fat bag!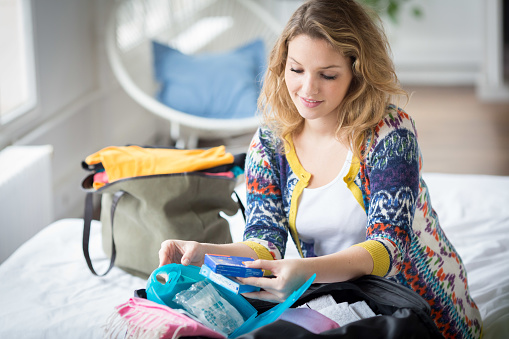 Extra plastic bags / garbage bags – For storing used/dirty laundry
Zip lock pouches – For any liquids to avoid spillage / stains on clothes.
Shower caps – to cover shoe soles. You can also use plastic bags.
Packing cubes – These are really helpful if you want to compartmentalise your clothes based on casuals, formals, party, etc. for easy access when in a hurry.
Extra lightweight bed sheet and inflatable pillows
Light weight towel
Cellotape, safety pins, thread and needle, head lamp.
Now that we have covered the essentials, it's time to address more pressing matters – like what should you pack? What you pack depends upon the destination, the weather, duration of stay and the activities that you have planned for yourself.
First thing to remember is that irrespective of your spending capabilities, airlines will always have a baggage limitation. If you don't mind paying that extra money on excess baggage, you could carry your entire wardrobe with you. Since I like to spend on more worthwhile things, here's what I pack:
For a duration of 6 days / 7 nights (1 week – without factoring travel time) in the summer where I would ideally go sightseeing, soak in the sun on a beach, get out of lazy mode and do a bit of trekking, explore the nightlife and yet make time for a romantic date with my husband, here's what I would pack:
Sightseeing (3 days): 3 light summer and/or maxi dresses, one pair of shorts, three light weight tops, comfortable shoes (either flip flops and/or loafers – depending upon the cultural and social restrictions of the destination)
Chill on a beach (1 day): Sarong/large scarf, one swim suit, flip flops
Adventure sports (1 day): 1 pair of gym tights, 1 dark coloured t-shirt, sports shoes and one sweatshirt/ wind cheater.
Explore nightlife (6 nights): 2 pieces of high fashion tops and bottoms (I mix and match the items for multiple days), 1 LBD, 1 pair of heels (that go with all the pieces), accessories to match the outfits, 1 small clutch that goes with all the pieces.
Romantic dinner (1 night):1 high fashion dress and accessories to match.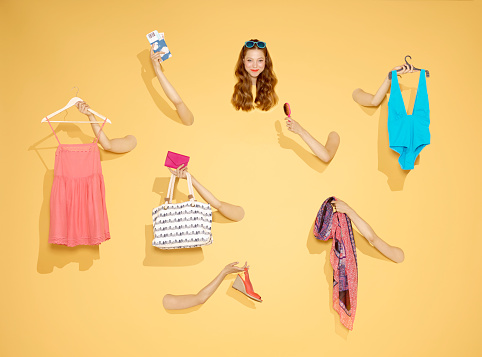 In addition to the above, I carry at least 2 – 3 scarves to accessorise the same outfits in different ways and 1 pair of jeans which I wear on the flight.
I like to pack exactly what I need. Why? Because if you pack a hundred things which you deem unavoidable, you will firstly end up with excess baggage and secondly, you will end up not wearing half of the outfits.
And if you are a shopaholic (like me), you will definitely not have space for new additions!
When it comes to actually putting all this into a bag, the world seems like a smaller place. To make my life easier, I make a list of all the items that I want to pack. This also helps to not forget something.
If you are too lazy to make a list but blessed with high speed internet, here are a few apps that can help. All you need to do is enter your travel dates and the destination and the app magically curates your packing list for you in a span of seconds!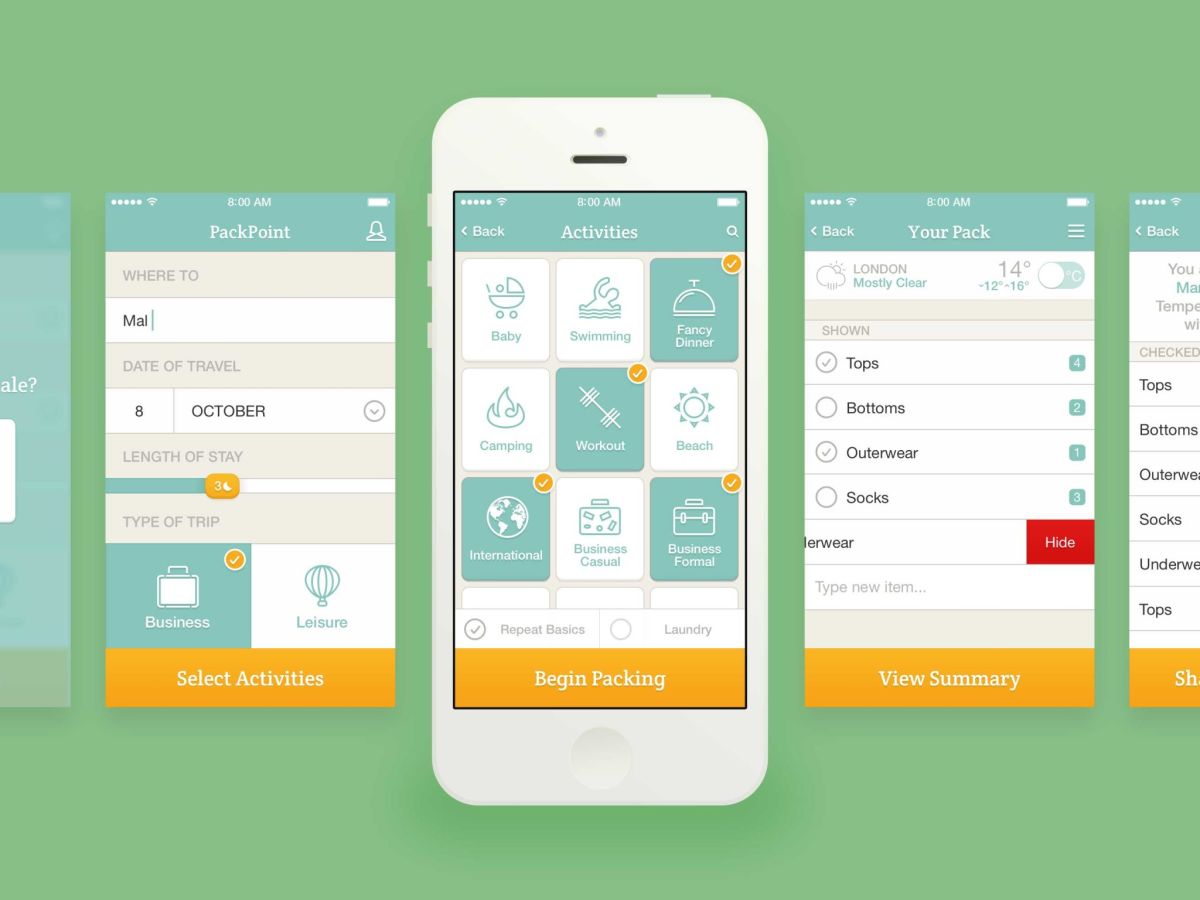 iOS – Packing Pro, TripList Pro, Pack The Bag.
Android – Packing List, LuggageChecklist, Pack The Suitcase.
Windows – Trip Packing Assistant, Packing List.
God bless technology!
Now that we have sorted list making problems, the next thing I do is lay out all the clothes that I have decided upon and match them with accessories and shoes. I also take a selfie to avoid last minute confusion. This helps me finalise what I wear each day and I don't have to fuss about it while on the trip.
Yes, I am obsessive, compulsive, and possibly have a brain disorder.
Let's begin packing…
If you have read other travel blogs (and there are many!), you may have come across tips that tell you to roll clothes to avoid wrinkles and conserve space. I have tried this. It doesn't work for me. My clothes end up wrinkling anyway and I don't see it taking up less space. I still prefer to fold clothes and keep them flat and use a bag with straps to fix the clothes in place. If you find that rolling your clothes serves you better, nothing like it!
Here are a few of my personal tips for packing:
Use all the available space you have: There is quite a bit of space around the corners of a suitcase. This space can be used to pack shoes. Use gaps between clothes to pack breakable items so that they are cushioned against the clothes. Pack flip flops or any flat item towards the border of the suitcases. If your suitcase has additional pouches on the outside, put these items in those.
Toiletries: Do not throw in unsealed bottles of liquids into the bag. If you don't have a pouch to put them in, seal the lids properly with tape before packing.
Wear bulky stuff: If you have heavy boots or a heavy jacket, wear them while travelling. Don't pack them. This saves you from freezing in flights and makes more space in your bag.
Pack whites in between other clothes: This prevents them from getting stained from the suitcase or other products packed around them.
Always put shoes in a cover: The best way to do this is to cover the soles of the shoes with shower caps. If you don't have shower caps, use plastic bags.
Keep wires in a pouch: We all know what a mess wires can be. I usually tie them up with a rubber band before putting them in an old sunglass case.
Packing DSLRs: I always carry my camera and lenses in my camera bag which is a separate bag. This avoids destruction in general.
Don't pack too much: Especially if you are travelling to Asia and south east Asia, you will have a gala time shopping there. Take only a couple to clothes which you can change into and you can buy the rest. The best part about this is that you can flaunt all the new acquisitions on Instagram!
Lastly, have fun while packing. Make it a date with your girlfriends and get their opinion on what you should pack. They are the best source to tell you what looks good and what can be skipped.
Hope this article helped you guys in getting organised! Do leave a comment if you have any questions or more ideas on how you pack.
PS: Don't forget your toothbrush!
Deea is an Influencer Marketer, content creator, traveller, photographer and blogger.