This is the most valuable teapot in the world
18-carat teapot is Guiness-certified as being the "most valuable teapot".
Called the Egoist, this pot for one, is encrusted with diamonds and rubies
It has been designed by NRI Nirmal Sethia, a philanthropist and businessman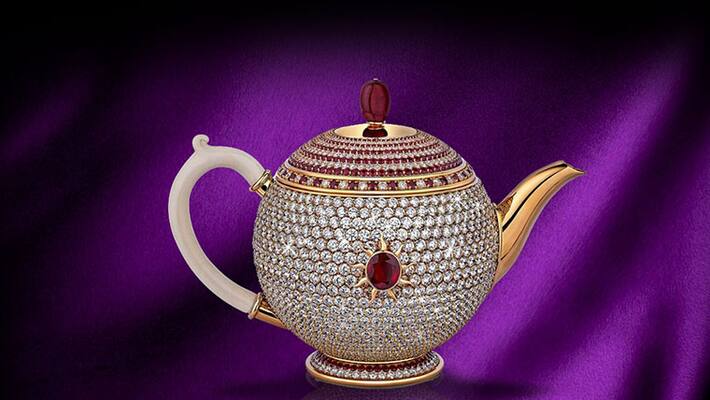 This 18-carat teapot has made its way to the Guinness records as being the most valuable teapot.  


Aptly called "The Egoist",  this teapot  is "1,658 brilliant-cut diamonds and 386 round brilliant-cut rubies shine and catch the light in a dazzling example of true artistry. The crowning glory is a centrepiece in the form of a superb Thai ruby framed in the shape of a sun. The lid features natural ruby beading and the handle is made of rare mammoth ivory," according to the Chitra Foundation.

 
The inside of the teapot is  "has a base of 18k yellow gold and parts of gold-plated genuine silver," according to guinnessworldrecords.com.
This bejewelled beauty was designed and created by Nirmal Sethia – a philanthrophist and businessman. The teapot was commissioned to an Italian jeweller called Fulvio Scavia. 
Is it any wonder that this teapot is valued at a mere $3 million?
Sethia on the purpose behind this exquisite teapot, in an asiantoday.com report, said, "I designed the Egoist teapot to raise awareness globally of the historic and cultural importance of tea, a magical refreshment that has lasted over a millennium and is a part of the fabric of civilisations from the Tang Dynasty to the modern era."
This teapot is now part of the Chitra foundation, named after his late wife.
Image source: thejewelleryeditor.com
Last Updated Mar 31, 2018, 6:57 PM IST