7 Chinese dishes found only in India
Manchurian and Manchow is in no way related to the Chinese province of Manchuria
In China chilli chicken is prepared with the offal of the bird
Noodles is a popular street food in China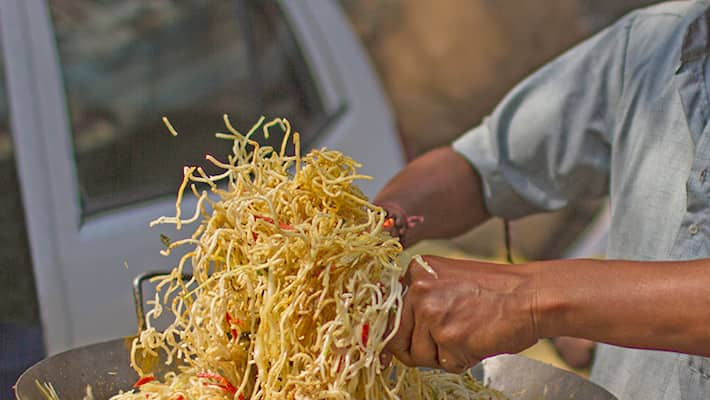 Chinese food is in India is very unique. India has added its own twist to the Chinese cuisine. You can find a Chinese restaurant in every part of India. Even those restaurants serving typical Indian cuisine include a Chinese section in their menu. At times, Chinese items are less costlier than authentic Indian delicacies. Our addiction to Chinese food has got to a stage where even roadside eateries cook up noodles and manchurian. Even our desi dosa comes with noodle filling. 
 
But the question is whether the so-called 'authentic Chinese cuisine' served in India are actually Chinese.  Find out the most popular Chinese recipes that Indians have adopted and converted to their style. 


 
1. Fried rice
 

It is the most famous Chinese food available in India. It is a winner across the board of all the dishes served in the Indian subcontinent. The Chinese prepare it by steaming rice with vegetables or meat, while in India we get a spicy and greasy version of it.


 
2. Manchurian
 


This most popular Chinese dish gets its name from the province of Manchuria in China, but is in no way related to it, The dish was invented by Nelson Wang, an Indian chef of Chinese descent. Wang accepts that he only added soy sauce instead of garam masala to prepare this favourite dish of Indians.


 
3. Chowmein
 

The original chowmien is boiled noodles served with scrambled eggs, cooked vegetables and soy sauce. How does the Indian version differ? It involves fried noodles in spicy sauce. 
 
4. Chilli chicken
 

Chinese don't dump chicken pieces into a vat of sauce. Chilli chicken is usually prepared from the offal of the bird. It is one of the cheapest food item available in China. The offal is barbequed, roasted or steamed with a sweet sauce to prepare the item. 
 
5. Manchow soup
 

Indian manchow is a brown colored spicy soup in a soy base and has vegetables, fried noodles, and meat. It has no relation to the original Chinese soup or the province of Manchuria.  
 
6. Hakka noodles
 

Believe it or not, noodles is a popular street food item in China, and they don't always have it as the main dish. When they have it on their main menu, it is eaten in a bowl with a thick paste or broth to add flavour. It does not resemble the stir-fried noodles variety mixed with vegetables, meat, egg and spicy sauce we get in India.
7. Dimsums
 

Dimsums are served in classy Chinese restaurants in India as a dish while momos are found in every other place. However, both these are not part of the main dish in China, but a tea-time snack and fillings range from sweet to savoury. The dish is steamed in a bamboo basket, and the intricate folds of the pouch show the skill of the chef. 
Last Updated Mar 31, 2022, 12:45 PM IST