Alleging corruption, VS demands white paper on Vizhinjam port deal
VS Achuthanandan alleged there is some mystery in the agreement signed by the UDF government
The UDF government inked the agreement for the Rs 7,525 crore project with Adani Group in 2015
The veteran CPM leader said the agreement is "not in the interest of Kerala"
Achuthanandan asked the LDF government to keep the election promise and rewrite the contract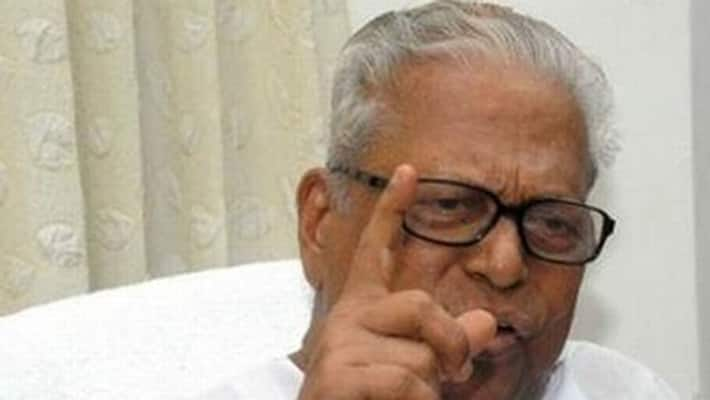 Alleging corruption in the proposed Vizhinjam International Seaport deal, former Chief Minister VS Achuthanandan has demanded a white paper on the project.
Raising the issue through a submission in the state Assembly on Monday, the veteran CPM leader said there is a need for a re-look at the government's agreement with the Adani Group, which is "not in the interest of Kerala".
Achuthanandan alleged that there is some mystery in the agreement signed by the Congress-led UDF government and that Adani Group, the promoters of the project, had violated the terms. The LDF had announced they would renew the project if they came to power. Achuthanandan asked the Pinarayi Vijayan government to keep the election promise and rewrite the contract 
"The election manifesto ahead of the 2016 Assembly polls had said if the Left comes to power the Vizhinjam port agreement would be reconsidered. The agreement is not transparent and not in the interest of Kerala, and hence the government should come out with a white paper on it," reports quoted Achuthanandan as saying.
Ports minister Kadannappalli Ramachandran said that he will respond to the veteran leader's submission after consultations with the government.
In 2015, the UDF government had inked the agreement for the Rs 7,525 crore Vizhinjam project with the Adani Group, which was the lone bidder and sought Rs 1,635 crore as grant for the project.
Last Updated Mar 31, 2018, 7:01 PM IST