Violence at GAIL protests: Police probe involvement of PFI, extremist groups [Video]
The police said they believe the attacks on police were made by people who belong to extremist groups from Malappuram
The probe team would also look into the involvement of the Popular Front of India (PFI) in the clash
The development comes after the police received reports that several persons arrived from Malappuram to take part in the protests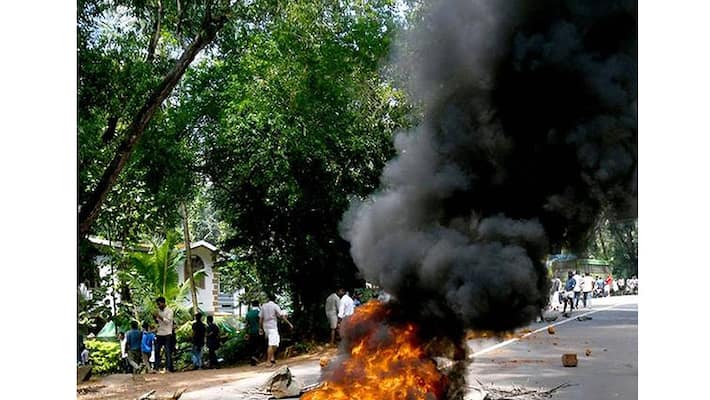 The Kerala police have started a probe about the alleged involvement of extremist groups in the clash between cops and protesters against GAIL pipeline at Mukkam in Kozhikode on Wednesday.
The police said they believe the attacks on police were made by people who belong to extremist groups from Malappuram, who got in amongst the anti-GAIL protesters. The probe team would also look into the involvement of the Popular Front of India (PFI) in the clash. 
The development comes after the police received reports that several persons arrived from Malappuram to take part in the protests on Wednesday. Their aim was to incite violence creating fear among people and they escaped as soon as the clashes began, trapping locals.
Trouble broke out at Mukkam on Wednesday as the protesters clashed with the police and pelted stones at policemen. The protesters also attacked GAIL officials and set the company's vehicles on fire. They also destroyed two KSRTC buses. The police had to resort to lathi-charge to control the mob.
At least 21 persons were arrested in connection with the incident and produced in court on Wednesday, while some are in preventive custody. The arrested have been charged with destruction of public property and attempt to murder.
GAIL's ambitious Kochi-Koottanad-Bengaluru-Mangaluru natural gas pipeline project has met with protests in Kerala for the past six months. The 80-km stretch of pipes are to be laid around Kozhikode district as part of the project.
Last Updated Mar 31, 2018, 6:39 PM IST