Auto driver recovers from Parkinson's through Asia's first robot-assisted surgery
Zubair, 45, was unable to drive the auto as his hands would start shaking uncontrollably
The Thrissur man underwent Deep Brain Stimulation (DBS) implantation at a Kochi hospital
The doctors who performed the surgery said that Zubair's symptoms have disappeared
The procedure is the first robotic-assisted DBS implantation performed in Asia for Parkinson's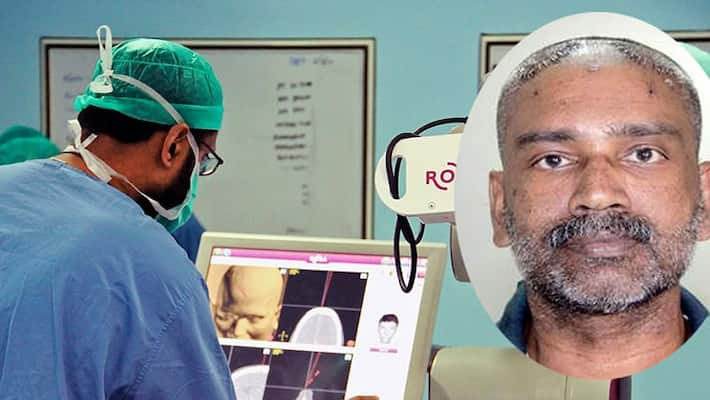 An auto-rickshaw driver, suffering from Parkinson's disease, got a new lease of life after undergoing Deep Brain Stimulation (DBS) implantation at a private hospital in Kochi. 
Guruvayur native Zubair, 45, was unable to drive the auto as his hands would start shaking uncontrollably midway, terrifying his passengers. Often, he used to request them to disembark and take another auto for their safety. 
The doctors who performed the surgery said that Zubair's symptoms have disappeared and now he would be able to lead his life as any other healthy man.
The procedure is the first robotic-assisted DBS implantation performed in Asia for Parkinson's disease, the Amrita Institute of Medical Sciences (AIMS) claimed in a press release. This technology enables minimally invasive surgery of the central nervous system with a level of precision not possible by human hand, it said. 
Considering the financial situation of the patient, the hospital conducted the surgery free of cost. 
DBS is a neurosurgical procedure involves the implantation of a neuro-stimulator (brain pacemaker) in the patient's body which, through wires connected to the head, sends electrical impulses to specific areas in the brain. According to Dr Ashok Pillai, Clinical Professor, Department of Neurosurgery, DBS has provided therapeutic benefits for treatment-resistant disorders like Parkinson's, epilepsy, movement disorders, chronic pain, depression and obsessive-compulsive disorders.
(with PTI inputs)
Last Updated Mar 31, 2018, 7:03 PM IST