The love story of conman Sukesh Chandrasekhar and struggling Malayalee actress Leena Maria Paul
Sukesh and Leena first met in Bengaluru in 2009-2010 when the actress had come to learn dentistry
Sukesh and Leena made Kochi their home for while in 2012 but there too Sukesh managed to work up a con involving Emmanuel Silks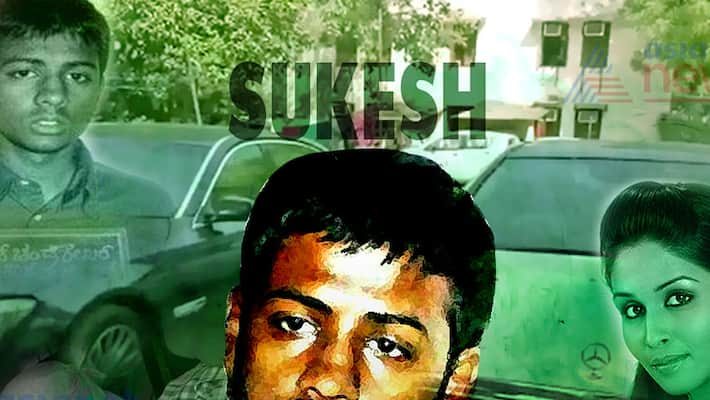 Today, the man hogging the headlines is Sukesh Chandrasekhar. The 27-year-old, was nabbed by the Delhi Police for convincing and conning Sasikala's nephew and AIADMK's RK Nagar by-poll candidate TTV Dinakaran that he could get him the famous two leaves symbol for the party.
Sukesh had struck a deal for Rs 50 crore for helping the AIADMK faction keep the 'two leaves' symbol. Police have recovered Rs1.30 crore from Sukesh and two cars — a BMW and a Mercedes — have also been seized," said a police official to PTI.
What is even more surprising is that this young man is a pro at his task and had stepped into the field quite young. A little background search on him reveals that he was once involved in a relationship with Malayalam actress Leena Maria Paul of Aamir fame. In Bollywood she has acted opposite John Abraham in the film Madras Cafe.
Also read: Who is Sukesh Chandrashekar, the Bengaluru conman, who duped Dinakaran of Rs 50 cr?
It is difficult to believe that a young actress like Leena Maria Paul would have been on the wrong side of the law. She hit the headlines in 2013 with then live-in partner Sukesh Chandrasekhar alias Balaji. In 2013, they were arrested from a farmhouse in south Delhi for allegedly cheating a Chennai bank of Rs 19 crore. Sukesh was then wanted in 22 cheating, impersonating cases spread over the country. Though he had escaped, Chennai police arrested Maria Paul for aiding Chandrasekhar in one of his cheating scams.
In 2015, the duo was again arrested by the Economic Offences Wing (EOW) of the Mumbai police in an alleged case of cheating. The couple were charged with cheating people by promising them high returns on investments in their bogus firm. The case went through a lot of twists and turns as when investigation began Sukesh was just her live-in partner, half-way into the interrogation, there were reports of her confessing to be his wife.
The duo first met in Bengaluru in 2009-2010 when Leena had come to learn dentistry. Sukesh was immediately taken by her and he promised her a life of luxury and cars and roles in films. Her dreams of becoming an actress started small, with minor roles in Malayalam cinema. 
According to a report in the Indian Express, in 2011 Sukesh was arrested and interestingly, because of information provided by her. Leena claimed she too had been cheated by a conman. She broke ties with him but after he came out, he tracked her and pleaded with her to take him back. She relented.
Police say that after that the two became closer and she even became pregnant with his child and then aborted it. Apparently, both of them have their names tattooed on each other's hands. She has the name Balaji and he, Leena. For a while they made Kochi their home but there too Sukesh managed to work up a con involving Emmanuel Silks.
She even released an autobiography titled Love for a Man, "I have undergone lot of tension and worry during the CBI investigation. Everything was for the man I love. Though I was entangled in legal troubles, I decided to stick on with my husband through thick and thin. It is difficult for a girl to go through all this. Society started looking at me in a different way. There has been a great hue and cry about me in the media. But I had faith in the Indian judiciary and that's why I was discharged from all the cases I was charged with," she revealed to Deccan Chronicle.
Recently in January, a Times of India report quoted her saying that she has been vindicated of the crime she was falsely accused of 3 years ago. The report mentions that the investigation team had allegedly dropped all charges against her because they could not find any evidence against her.
Last Updated Mar 31, 2018, 6:39 PM IST