Karate kid: Kerala teenager tackles police officer who molested her
Police officer Naveen, who was in civilian dress, allegedly approached a 40-year-old woman and her teenage daughters as they entered the parking lot
As soon as the family got out of the car, the accused started verbally abusing them and groped the elder daughter
"My girls are trained in karate and it helped them in preventing the assaulter from getting away"
The incident allegedly happened when Naveen's wife was admitted for delivery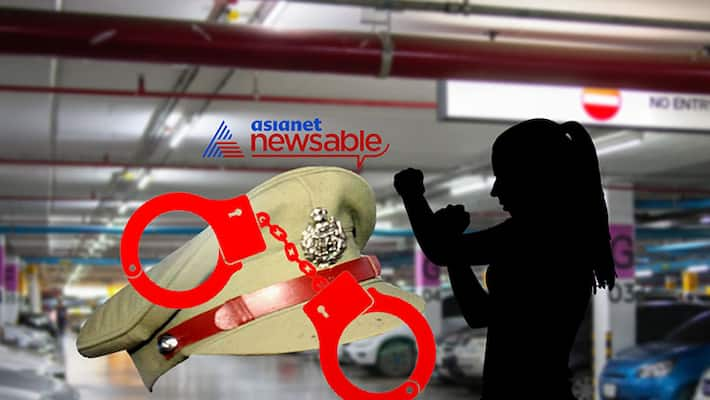 In an appalling incident, a police officer has been arrested for molesting a teenage girl in the parking lot of a shopping complex in Thiruvananthapuram on Saturday.
The offender, identified as civil police officer Naveen (29), is attached to the Neyyattinkara police station. He was arrested by the Medical College police and has been remanded to judicial custody. The incident happened in the parking lot of the TRIDA shopping complex near the Government Medical College Hospital on Saturday evening. 
Naveen, who was in civilian dress, allegedly approached a 40-year-old woman and her teenage daughters as they entered the parking lot. He guided them to park the car but as soon as the family got out of the car, the accused started verbally abusing them and groped the elder daughter.
"When my daughters stepped out of the car, he groped the elder one from behind. Then he tried to flee from the scene," a Times of India report quoted the harassed girl's father, who is also a senior lawyer.  
However, the two girls, aged 19 and 16, succeeded in stopping Naveen from escaping till passersby arrived, hearing their screams.
"My girls are trained in karate and it helped them in preventing the assaulter from getting away."
The accused turned out to be a resident of the same neighbourhood, where the lawyer and his family lived. Ironically, some mutual friends called up the father, seeking his service to get a bail for Naveen, without knowing that it was the same lawyer's daughter who was molested.
"In fact, I got to learn about the incident when some common friends called me seeking my service to get a bail for the accused."
Worse yet, the incident allegedly happened when Naveen's wife was admitted for delivery at the SAT Hospital at the Medical College campus. He was loitering outside the hospital when his wife was taken in for labour.
Medical College CI D Girilal said that Naveen has been charged with sections 354A (sexual harassment) and 294 (using profane language) under IPC. Thiruvananthapuram rural SP P Ashok Kumar said that the accused would be put under suspension.
Last Updated Mar 31, 2018, 6:35 PM IST