Sherin Mathews death: Father admits to moving body after she choked on milk
Late on Tuesday night the police confirmed that the body had indeed been of the three-year-old missing toddler
Wesley Mathews has been arrested and will be presented in court in November
The Dallas County Medical Examiners Office confirmed the identity of the small child through Dental records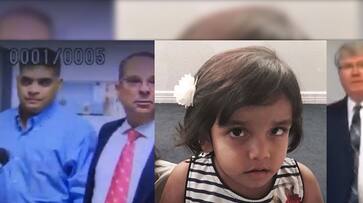 , father of Sherin Mathews came in voluntarily on October 24 to the Richardson Police to  record his statement after the less than a mile away from home in a culvert. The police said he changed his original statement and that prompted them to arrest him for injury to a child. Mr. Mathews' statements to Richardson detectives currently support the offense of Injury to a Child. This charge carries the possibility of a life sentence in prison. The charges may be modified as the investigation comes to an end. More arrests could be made.
Late on Tuesday night the police confirmed that the body had indeed been of the three-year-old missing toddler putting an end to the massive manhunt that had begun on October 7. The  Dallas County Medical Examiners Office  confirmed the identity of the small child recovered on Monday, October 23rd in Richardson, TX as three-year-old Sherin Mathews by using dental records. Mother also helped in identifying the child's body through her clothes.
The police said that Wesley in his statement had said that he dumped the toddler's body in a culvert near his Texas home after she choked on her milk while he "physically assisted" her. The affidavit from the police states that Mathews mentioned that he and Sherin were in the house's garage when she refused to drink her milk. She wasn't listening initially but when her father helped her she began drinking it. Sherin began choking, coughing and breathing slowly at some point. Wesley felt no pulse and saw she died so he removed the 'body' from his house.
In all these new developments the mother, Sini Mathews, seems quite suspect. She had been refusing to cooperate with the and had said she had been sleeping when the incident took place. Her lawyer has also left her. So it remains to be seen whether the Richardson police will be pushing any charges against her.
From the beginning the whole story sounded suspicious to everyone who heard it. Now, finally, Sherin Mathews has been found and her story told.
Last Updated Mar 31, 2022, 5:10 PM IST