SC frees Hadiya from parents' custody, allows her to continue studies
Hadiya, who converted to Islam and married a Muslim youth, pleaded before the Supreme Court that she should be allowed freedom
The 24-year-old also requested the court to allow her to live in the faith of her choice and to complete her studies
Hadiya's father Ashokan stated before the court that Shafin Jahan has terror connections and claimed that he has evidence to prove it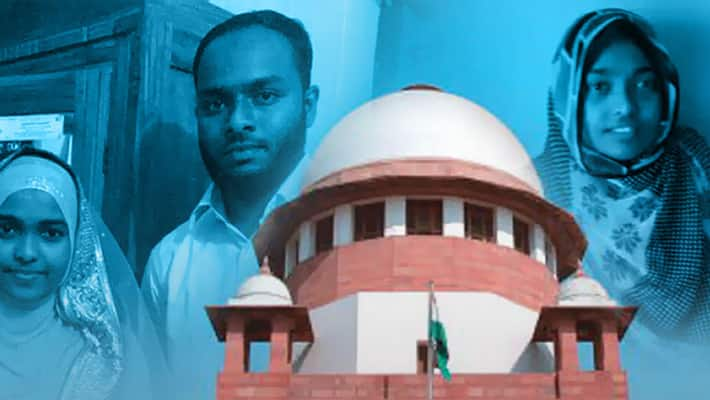 In a milestone judgment, the Supreme Court on Monday ordered that Hadiya, who is at the centre of a conversion row, should be freed from her parents' custody and allowed to continue her studies.
Kottayam native Hadiya, who converted to Islam and married a Muslim youth, pleaded before the Supreme Court that she should be allowed to live with her husband Shafin Jahan.
Hadiya aka Akhila Ashokan pleaded for freedom at the SC with the help of a translator. She also requested the court to allow her to live in the faith of her choice and to complete her studies. 
"I want freedom. I want justice. Nobody forced me to convert to Islam or marry Shafin Jahan," said Hadiya, who was produced in the Supreme Court on Monday as per its direction.
The SC bench headed by Chief Justice Dipak Misra conducted the hearing Hadiya in open court, after rejecting the plea for in-camera hearing.
Meanwhile, Hadiya's father Ashokan stated before the court that Shafin Jahan has terror connections and claimed that he has evidence in the form of voice clips and video footages to prove it.
Ashokan's advocate Shyam Divan informed the court that Shafin had talked to Islamic State recruiter Mansi Buraq and asked about the payments for recruiting new people. The NIA also supported the argument that Shafin maintained terrorist links.
The lawyer also said that Hadiya's statement cannot be taken at its face value, claiming that her mental stability was doubtful and that she was made to say so.
Last Updated Mar 31, 2018, 6:33 PM IST