Ramaleela opens to a brilliant start, Udaharanam Sujatha a feel good movie
Dileep movie Ramaleela had a grand opening and it is running houseful
It is competing with Manju Warrier starrer 'Udaharanam Sujatha'
Meanwhile, court extended the remand of Dileep till October 12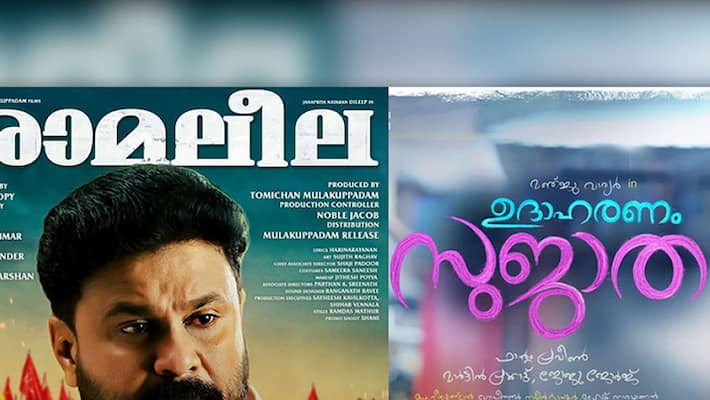 Dileep starrer Ramaleela received a warm welcome from fans and it is running houseful across the state. 
The movie has been released in 191 theatres across the state and has got a brilliant start. The celebrations associated with the release of the film is considered as a positive attitude of the public towards the actor. The crowd were seen cheering and celebrating in front of theatres even in the rain. 
Ramaleela is competing with Manju Warrier starrer 'Udaharanam Sujatha.' Though it did not get a warm welcome like the Dileep starrer, Udaharanam Sujatha is also reviewed as a feel-good movie which will mostly impress female viewers. 
As per Asianet News review that Ramaleela is an ordinary thriller which can be enjoyed if you are not going to the theatre without high expectations. It is different from ordinary Dileep movie and what is to be noted is that majority viewers were youth and not family, while the actor is considered as a family entertainer. The movie is about the life of a politician and the issues he faces in his life. 
Meanwhile, Udaharanam Sujatha is about a single mother who struggles with her life. She is struggling between her job and dreams about her daughter who is not that interested in studies. Asianet News reviews that the best thing about the movie is the acting of Manju Warrier, but she often fails to handle Thiruvananthapuram 'slang'.
The dialect is an important aspect of the movie considering the fact that the story is about a maid who hails from Chenkal Choola Colony or Rajaji Nagar, a slum in Thiruvananthapuram. However, the reviewer has rated it as a feel-good movie. 
Last Updated Mar 31, 2018, 6:50 PM IST