PY registration scam: Here is why Amala, Fahadh found it easy to register luxury cars in Puducherry
By registering their luxury cars under fake addresses in Puducherry, the celebrities managed to evade taxes to the tune of several lakhs
From youngsters Amala Paul, Fahadh Faasil and actor-turned-MP Suresh Gopi, prominent names have been caught up in the scam
To register a vehicle in Puducherry, a car owner need not have a permanent address in the area
Several VIPs based in Kerala, mostly Mollywood celebrities, have been in the news of late after being caught up in a tax evasion scam, by registering their luxury vehicles in Puducherry.
Starting with businessman and former Koduvally municipal councillor Karat Faisal to young actors Amala Paul, Fahadh Faasil and actor-turned-MP Suresh Gopi, several prominent names have been caught up in the scam.
By registering their luxury cars under fake addresses in Puducherry, the celebrities managed to evade taxes to the tune of several lakhs. After the incident came to light recently, the Kerala Motor Vehicle Department (MVD) issued notices to these celebrities, accusing them of tax evasion. 
PY registration scam: Actress Amala Paul evaded tax worth Rs 20 lakh
Fahadh owned up to the mistake and has said that he has started the process to re-register in Kerala and would complete it as soon as he gets a NOC from Puducherry, while Suresh Gopi has so far refused to comment on the issue.
Amala, on the other hand, seems to be ill-advised about tax rules and even put up a Facebook post defending her actions. "I am an Indian citizen and assumed that I have every right to work and own any asset throughout our nation freely," her post read.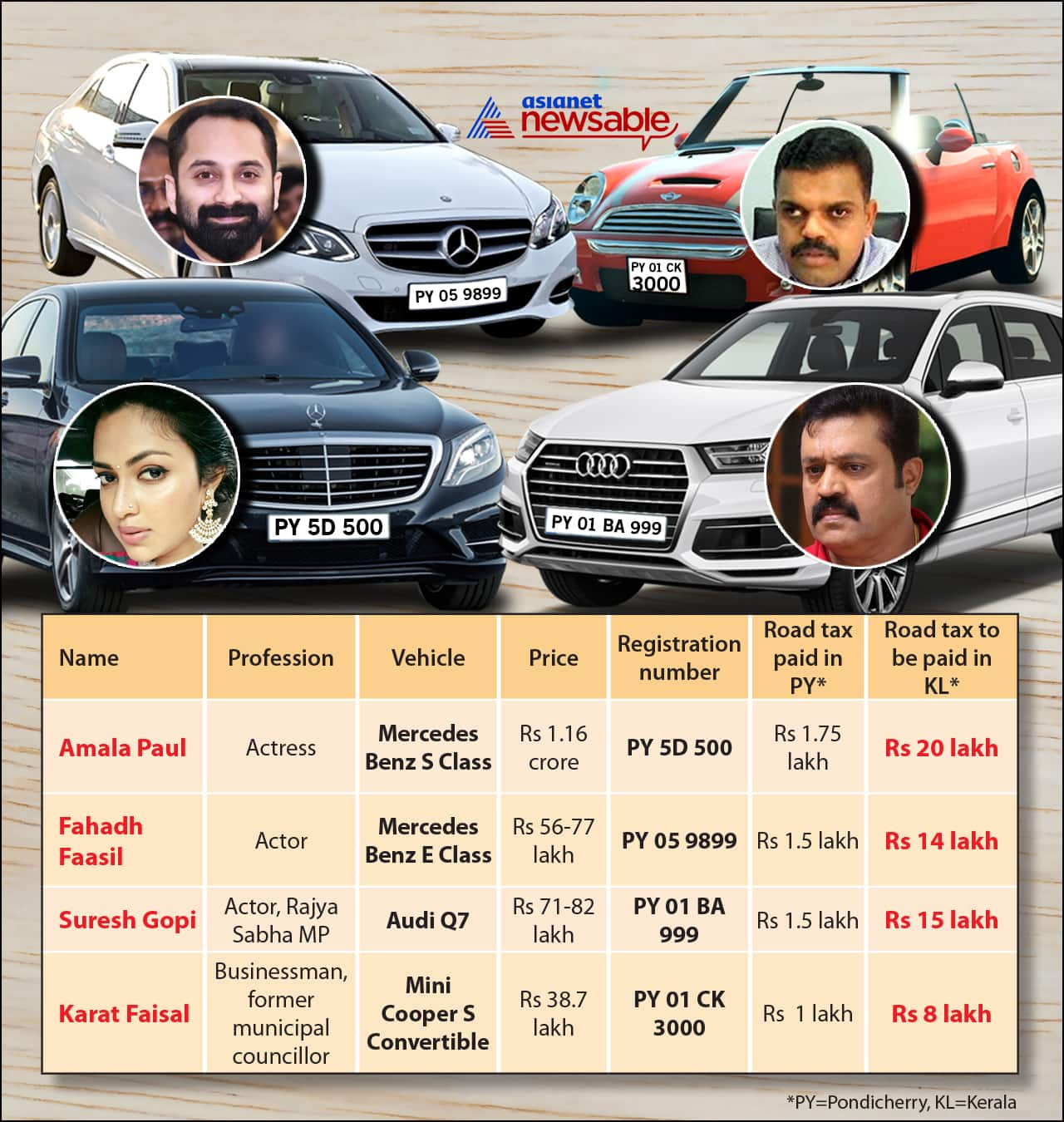 Though the issue came into the spotlight only recently, registering luxury vehicles in Puducherry has been an age-old practice as far as Keralites are concerned. Several businessmen, who have figured out the tax loopholes, have been doing this for years through agents.
Why it is cheaper to register a luxury car in Puducherry
Ultimately, it all boils down to the huge difference in the tax structure between states and union territories. Expensive cars attract almost 15 per cent tax over the purchase value in most states whereas in union territories like Puducherry it is less than one per cent. Also, there is no registration tax in union territories, unlike in states. 
After Amala Paul, Fahadh Faasil caught up in PY registration scam
To register a vehicle in Puducherry, a car owner need not have a permanent address in the area, according to reports. The registration books in Puducherry allegedly feature columns for both current and permanent address of the vehicle owner. This is in stark contrast to the rule in the states, where the vehicle can be registered only in city or town where the owner resides.
Hence, owners of several luxury vehicles in Kerala have been posing as Puducherry residents while registering their cars, in a bid to enjoy the lesser taxes imposed in the UT.
Why is it against the law
Though the rules in Puducherry do not restrict a non-resident from registering their luxury vehicle as long as they have a temporary address there, the Kerala MVD has strict rules about the vehicles operating in the state.
As per the Kerala Motor Vehicles Act, vehicles registered in other states plying in Kerala have to be registered again within a year and 20 per cent of the vehicle's price should be paid as road tax.
Last Updated Mar 31, 2018, 6:36 PM IST