Police stop 31-year-old woman from entering Sabarimala temple
Parvathy, a resident of West Godavari in Telangana, was picked up by the police on Sunday from the sannidhanam
The woman was not carrying the traditional "irumudi", a small bundle containing coconut, ghee, turmeric and sandal paste
Feeling suspicious, the police checked her identity card which showed she was only 31 years old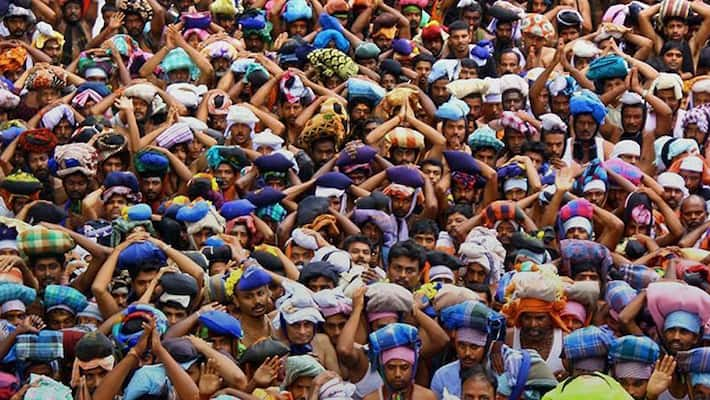 A 31-year-old woman made a vain attempt to enter the famous Lord Ayyappa temple at Sabarimala, where female devotees in the 10-50 age group are not permitted.
Parvathy, a resident of West Godavari district in Telangana, was picked up on Sunday from the sannidhanam (temple complex). She was questioned and her statement has been recorded, police sources said.
The woman was not carrying the traditional "irumudi", a small bundle containing coconut, ghee, turmeric and sandal paste which is offered to the deity. Feeling suspicious, the police checked her identity card which showed she was only 31 years old.
Also read: Controversy erupts over under-50 woman entering Sabarimala temple with minister Shylaja
Parvathy took a different path to reach the sannidhanam, the police said. Normally, devotees climb the 'pathinettam padi', the sacred 18 steps leading to the temple complex.
The woman, who was accompanied by her husband, two children and 11 other people from her village, told the police that she was unaware of the restrictions with regard to women of the banned age group at the shrine.
According to the tradition of the temple, the entry of women in the 10-50 age group is restricted in the hillock shrine dedicated to Lord Ayyappa, considered the 'naishtika brahmachari' (perennial celibate).
Read more: Sabarimala: TDB to re-record Yesudas' Harivarasanam with changes [Video]
The entry of women is strictly monitored by police at Pampa before they begin to trek Sabarimala to reach the shrine. Temple sources were clueless on how the woman managed to reach near the shrine defying the police monitoring and stringent checks.
The ban on the issue of entry of women in the age group has been challenged in the Supreme Court, which had on October 13 referred it to a constitution bench. 'Bhumata Brigade' leader and woman activist Trupti Desai had said she would enter Sabarimala defying the restrictions.
Two days ago, some Hindu right-wing groups have kicked up a row by claiming that a woman below 50 years entered the Sabarimala temple along with health minister KK Shylaja on Friday. 
Last Updated Jun 12, 2019, 1:00 PM IST