Open 'B vault' of Sree Padmanabhaswamy temple: SC
The SC gave the directive on Tuesday, while considering a plea regarding a recent incident where eight diamonds from the idol went missing
The mysterious B vault has kept everyone guessing for years, while five other vaults were opened in 2011 by a team mandated by the SC
A recent amicus curiae report to the SC had claimed that eight gems - which form part of the idol's 'namam' (tilak) - went missing in May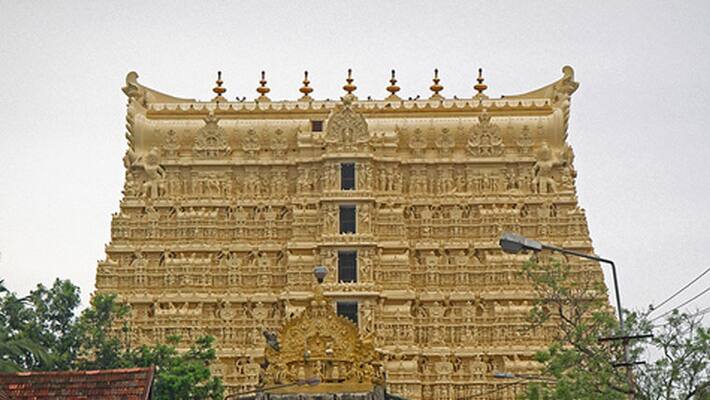 The Supreme Court has directed the Kerala government to open the 'B vault' inside the Sree Padmanabhaswamy Temple in Thiruvananthapuram.
The SC gave the directive on Tuesday, while considering a plea regarding a recent incident where eight diamonds from the idol went missing. The bench, chaired by the apex court Chief Justice, observed that the opening of the B vault would not hurt any religious sentiments.
The mysterious B vault has kept everyone guessing for years, while five other vaults were opened in 2011 by a team mandated by the SC. The stocktaking then had unveiled a treasure trove worth more than Rs 1 lakh crore - in the form of jewellery, coins, idols, utensils and weapons .
Eight diamonds missing from Padmanabhaswamy temple
"If the B vault remains closed, it will generate suspicions. The amicus curiae should convene a meeting of the members of the royal family and revert with their opinion," the court stated. 
The SC also asked the state government to deploy special officials for security duty and also to appoint a finance controller to take care of the expenses.
In a shocking revelation, a recent amicus curiae report to the Supreme Court had claimed that eight gems - which form part of the idol's 'namam' (tilak) - went missing in May and the Crime Branch has been investigating the incident.
Amicus curiae Gopal Subramanium had alleged callousness from the Crime Branch in the probe into missing diamonds and requested an investigation monitored by the SC. However, the court dismissed the request and said the Crime Branch can continue on the case.
Last Updated Mar 31, 2018, 7:05 PM IST