Manju Warrier shared a post on her Facebook page
The poster says that makers of Mohanlal's next movie 'Odiyan' is looking for fresh face
Those applying to play Mohanlal's childhood must be flexible and trained in martial arts
After Pulimurugan, Mohanlal will be seen in two equally massive movies Odiyan and Randamoozham.
Odiyan is all the more interesting with Manju Warrier playing the female protagonist and Prakash Raj doing the role of an antagonist.
The movie is in the pre-production stage, and as the fans are eagerly waiting for the magical realism, the makers have released a poster seeking artists for the movie.
Manju Warrier has shared the post on her wall and as the poster states that the makers are on the look out for boys and girls within the age group of 5 to 7, 10 to 14, 16 to 18 and 21 to 24, for the movie. 
Boys between 10 - 14 and girls between 5 - 7 will play the childhood of Mohanlal, Manju Warrier and Prakash Raj. Girls between 16 - 18 and boys of 21 - 24 are also needed to play other characters in the movie.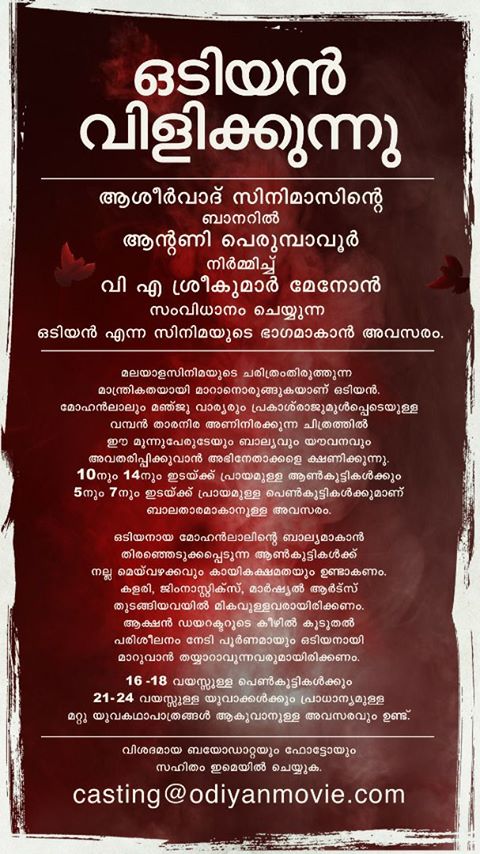 The makers have clearly mentioned that the those applying to play Mohanlal's childhood must be trained in gymnastics, Kalaripayattu or other martial arts. Aspirants must be flexible and willing to train under the action director to transform as the character.
National Award winner Peter Hein, who became popular among Kerala viewers after Pulimurugan, has been roped in to choreograph stunts for the movie.
Odiyan is named after a section of people who had mastered odividya; a black magic trick used to tackle enemies.