NCW chief Rekha meets Kerala DGP Behera on 'forceful conversions'
"Some institutions are playing a big role in forceful conversions. The DGP has promised to look into it," Rekha Sharma told reporters
It is a matter of concern, the NCW chairperson said, adding that she had also met many girls who had been "forcefully converted"
Rekha, who has been in the state for the past three days, also met Bindhu, the mother of Nimisha Fathima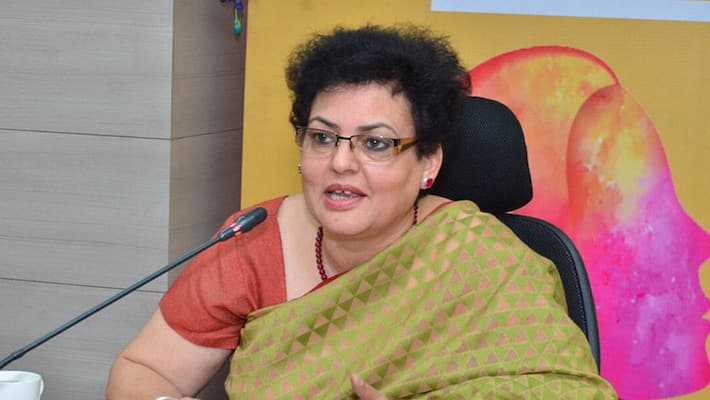 National Commission for Women (NCW) chairperson Rekha Sharma has asked Kerala police chief Lokanath Behera to look into whether some institutions are involved in "forceful conversions" and their source of funds. 
"These institutions are playing a big role in forceful conversions. The DGP has promised to look into the matter," Rekha told reporters after the meeting with the DGP in Thiruvananthapuram. 
It is a matter of concern, the NCW chairperson said, adding that she had also met many girls who had been "forcefully converted". However, the state women's commission had on Tuesday rejected the charge that "forced conversions" take place in the state. 
Terrorists use Kerala women as human bombs: NCW
Rekha, who has been in the state for the past three days, also met Bindhu, the mother of Nimisha Fathima, who is suspected to have joined Islamic State along with her husband, on Wednesday. 
Later, speaking to reporters, Bindhu said, "I have faith in God... God will return my daughter, son-in-law and grandchild," and added that she had not heard from her daughter since the past one-and-a-half years. 
'Where is my daughter?' Nimisha Fathima's mother visits NCW chief
Nimisha, a Thiruvananthapuram native, had left the country to join Islamic State around two years ago with her husband Isa, who is also a convert. She was pregnant at the time and later sent her mother a message saying she has given birth.
The youngster was a final year dental student in Kasaragod when she got married to a Christian youth named Bexen, who later converted to Islam along with Nimisha, his brother Bestin and his wife Merin. They are among the 21-odd people who went missing from Kerala and believed to have joined the ISIS in Syria.
Last Updated Mar 31, 2018, 6:40 PM IST