Kerala couple gets hitched on Everest after 10-day trek [Video]
Aswathy Raveendran and Ratheesh Nair tied the knot at the foothills of the world's tallest mountain
Aswathy and Ratheesh met and fell in love during a trek in Sirumalai three years ago
Executing the plan to get married on Everest was difficult, so was convincing the parents
Accompanied by three close friends, the couple started their journey on May 5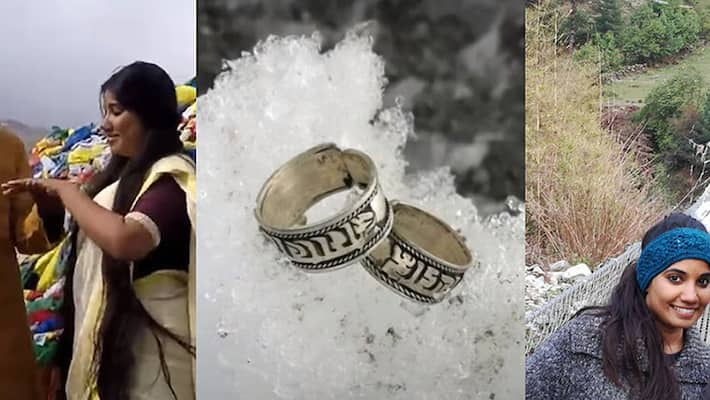 Destination weddings are charming affairs. Couples from cities can head to the countryside and can get the relaxed vibe for the holy matrimony. And if the destination is the great Mount Everest itself, the excitement goes up a few notches.
And that's exactly what this Kerala couple did. Aswathy Raveendran and Ratheesh Nair tied the knot at the foothills of the world's tallest mountain range.
Aswathy and Ratheesh met and fell in love during a trek in Sirumalai three years ago, where a common friend introduced them, according to a Times of India report. The relationship grew stronger after a few more trips and the interest in trekking and travelling made them decide to get married at Mount Everest.
Executing the plan was difficult, so was convincing the parents. They were hesitant initially as they were worried about the risks. But eventually they agreed on the condition that once the two return to Kerala, they would have a simple wedding and reception for relatives and close friends.
Accompanied by three close friends, the couple flew to Nepal on May 5. They started their trek from Lukla the next day and after a 10 days of tiring journey, they reached the Everest base camp on May 15.
"After reaching there, we changed to traditional Malayali attire. Around 3.40 pm, we entered the wedlock at the base camp surrounded by snowy hills. I have no words to describe that feeling. It was pretty cold but I did not feel anything due to the excitement of the wedding," the report quoted Aswathy as saying.
Aswathy is working at St Theresa's College, Ernakulam and also pursuing her PhD in English Literature. Ratheesh is working as an after-sales manager for Nissan in Dubai. 
Last Updated Mar 31, 2018, 6:40 PM IST