Heavy rains hit southern Kerala as state braces for cyclone Ockhi
The metrological office has forecast heavy rains for Thursday night and Friday in the southern districts of Kerala and Tamil Nadu and in Lakshadweep
The office said that heavy rains and winds in the south was due to a depression formed over southwest Bay of Bengal near the Sri Lanka coast
eanwhile, Kerala and Tamil Nadu are expected to witness moderate to heavy rainfall in the next 24 hours due to formation of cyclonic storm Ockhi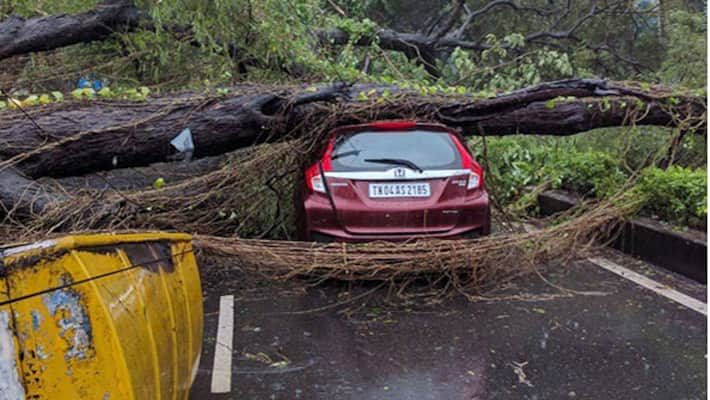 Southern Kerala was lashed by heavy rain and strong winds on Thursday afternoon, causing trees to be uprooted at several places in Thiruvananthapuram and Kollam districts, blocking traffic.
The state government declared a holiday for educational institutions in the afternoon. The metrological office has forecast heavy rains for Thursday night and Friday in the southern districts of Kerala and Tamil Nadu and in Lakshadweep and also parts of Nicobar Islands.
The office said that heavy rains and winds in the south was due to a depression formed over southwest Bay of Bengal near the Sri Lanka coast and it had moved westwards and intensified into a deep depression in the early hours of Thursday.
The report said gale wind with speeds reaching 65-75 kmph and gusting to 85 kmph are likely along and off south Kerala over the next 48 hours and off south Tamil Nadu. 
The Kerala government has already opened a special control room under the charge of a top police officer. The Met office advised fishermen not to venture into the sea along and off south Tamil Nadu and south Kerala coasts and Lakshadweep Islands.
Meanwhile, Kerala and Tamil Nadu are expected to witness moderate to heavy rainfall in the next 24 hours due to formation of cyclonic storm Ockhi, a MeT official said.
The storm could also intensify into severe cyclone, the official said, adding the cyclone is expected to have a wind speed of 65-75 km per hour and that the sea will be rough.
 
Last Updated Mar 31, 2018, 6:51 PM IST