Hadiya case: Women's commission seeks report from Kottayam SP
MC Josephine met with the Kottayam SP and asked a detailed report on the 24-year-old's present situation at her residence in Vaikom
The development comes after a video, in which Hadiya can be seen pleading for help and saying that her father would "kill" her, surfaced online
Some reports also claimed that she was being forcibly intoxicated by family members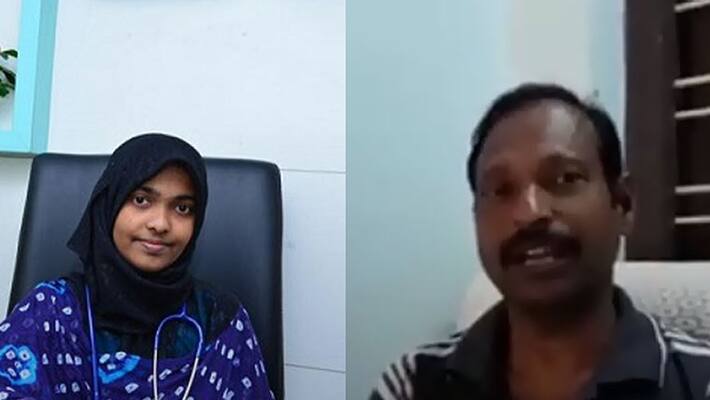 The Kerala Women's Commission on Saturday directed the Kottayam police to inquire and submit a report on the condition of Hadiya aka Akhila Ashokan in the now-infamous 'love jihad' case.
The commission's chairperson MC Josephine met with the Superintendent of Police (SP) in Kottayam and asked a detailed report on the 24-year-old's present situation at her residence in Vaikom, where she is under house arrest. An officer, who not below the rank of DySP, is to be entrusted with the inquiry.
The development comes after a video, in which Hadiya can be seen pleading for help and saying that her father Ashokan would "kill" her, surfaced online on Thursday. Some reports also claimed that she was being forcibly intoxicated.
Read more: My father will kill me anytime: Hadiya
Hadiya's husband Shafin Jahan then wrote to Chief Minister Pinarayi Vijayan, requesting him to intervene in the issue immediately. A group of people had also submitted a petition to the Kerala CM last month, demanding a probe into the alleged unlawful incarceration of Hadiya.
Hadiya had converted to Islam and married Shafin in 2016. In May, the Kerala High Court annulled the marriage and sent Hadiya with her parents acting on a petition filed by her father Ashokan, who claimed that Muslim organisations were planning to take her abroad and make her join the Islamic State group.
Hadiya video: Shefin Jahan asks Chief Minister to interfere
The case is under consideration of the Supreme Court now, which had ordered the NIA investigation into it. Shafin, on September 16, had filed a plea in the apex court and requested to call off the NIA probe alleging that the agency "is not being fair".
On October 7, the Kerala government told the Supreme Court that the NIA investigation was not needed in the case as the state police were efficient enough to carry out the inquiry.
The Kerala High Court while hearing the Hadiya case, on October 10, observed that all inter-religious marriages cannot be termed "love jihad".
Last Updated Mar 31, 2018, 6:52 PM IST