Elephant, which belongs to PC George's family, gets 'blessed' at Kottayam church
The bizarre incident took place at St George Foronah Catholic Church at Aruvithura near Kottayam on Thursday
Father Vedikunnel also stressed that use the word baptised is wrong in the context and the correct word is "blessed"
Veteran politician and Poonjar MLA PC George, who is a member of the church, revealed the elephant belonged to his cousin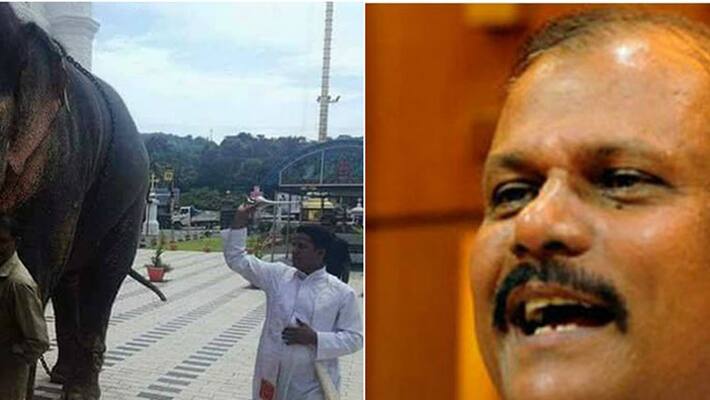 In a rare incident and possibly a first in the country, an elephant got "blessed" at a church in Kottayam, Kerala.
The bizarre event took place at St George Foronah Catholic Church at Aruvithura near Kottayam. However, Fr Thomas Vedikunnel, the parish vicar of the famed church, tried to play down the whole episode.
"Yes, an elephant got blessed. It was done by a junior priest attached to this church. Is this news?" IANS quoted the vicar as saying. 
Father Vedikunnel also stressed that use the word baptised is wrong in the context and the correct word is "blessed".
Veteran politician and Poonjar MLA PC George, who is a member of the church, revealed the elephant belonged to his cousin and that the blessing took place on Thursday.
"In my Plathottam family, over the years there have been 50 elephants. The one that got blessed on Thursday belonged to my cousin. The elephant's name is Mahadevan and is around 20 years old," the seven-time legislator said.
George also stressed that the "blessing" will not mean the elephant's name will be changed to a Christian one.
"Please don't misunderstand that since Mahadevan got blessed, his name is going to be changed. He will not have a Christian name," he added.
Last Updated Mar 31, 2018, 6:51 PM IST