7 BJP workers arrested for attack on CPM office as clashes escalate [Videos]
Stones were hurled at the CPM district committee office in the capital on Sunday, in which some window panes were damaged
Seven BJP workers were taken into custody on Sunday night and later arrested, police sources said
State police chief Lokanath Behera said strong action would be taken against those responsible for the violence in the state capital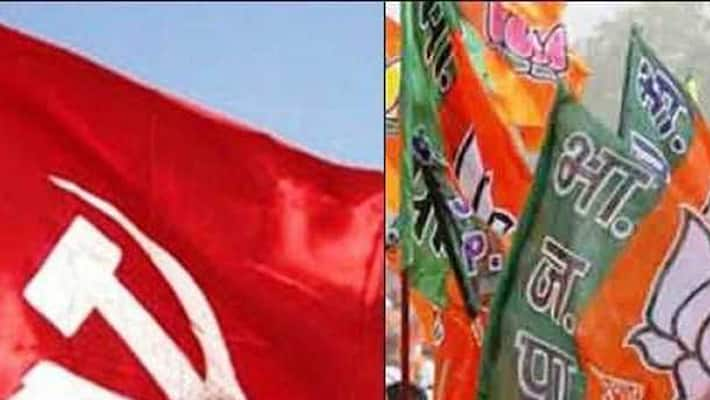 Seven BJP workers have been arrested in connection with the alleged attack on the CPM district committee office in Thiruvananthapuram. 
Stones were hurled at the CPM district committee office in the capital on Sunday, in which some window panes were damaged. The accused were taken into custody the same night and later arrested, police sources said. 
The glass case in which the bust of late P Krishna Pillai, founder of the communist movement, was kept, was also damaged in the stone pelting. A BJP procession had passed through the area just before the incident. 
State police chief Lokanath Behera said strong action would be taken against those responsible for the violence in the state capital. "We have taken strong action. Some accused have been taken into custody and some more are to be caught. There is no panic situation," Behera told reporters. 
Also read: CPM worker attacked allegedly by SDPI activists in TVM [Video]
Meanwhile, CPM state secretary, Kodiyeri Balakrishnan, visited the party office on Monday morning and accused the BJP of turning Thiruvananthapuram into a "war zone". 
"The RSS and BJP's aim is to turn the state capital into a war zone. Corporation mayor was attacked by BJP and RSS. Stringent action should be taken against communal forces and no need to show any leniency towards them. Police should take action against RSS and SDPI," the CPM leader said. 
Meanwhile, the BJP has denied that its workers were responsible for hurling stones at the CPM office. BJP district president S Suresh claimed that the incident had taken place only after the BJP procession crossed the area. 
"We are also against such violence," Suresh said. Stones were also hurled at the Bhartiya Mazdoor Sangh (BMS) office on Sunday, he alleged.
Political violence marred Kerala on Sunday as CPM and BJP workers clashed in various parts of the state. The incidents happened a day after mayor VK Prasanth was attacked allegedly by BJP workers at the Thiruvananthapuram corporation council.
The capital city had witnessed tense moments following the attack on the mayor. On Sunday, a CPM worker was also attacked by two bike-borne SDPI workers in the district.
Last Updated Mar 31, 2018, 7:05 PM IST